Published on February 23, 2021 by Center for Worship and the Arts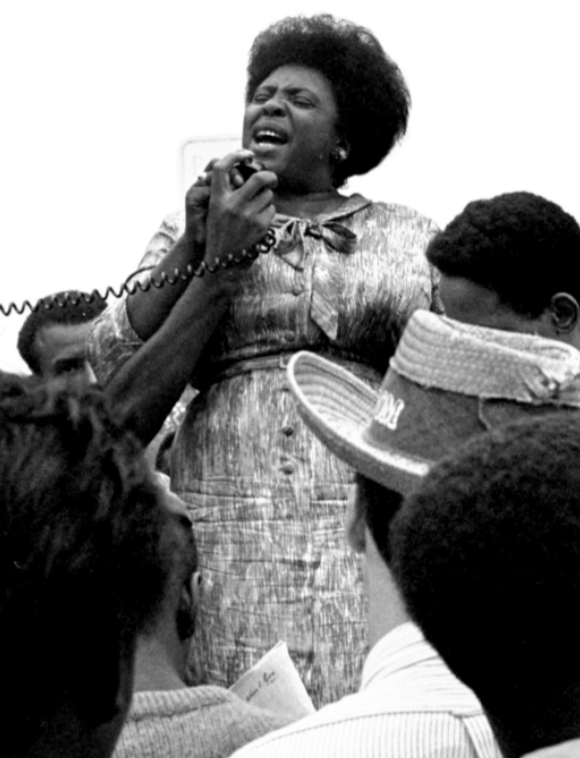 Over the years, the Center for Worship and the Arts has been blessed by its partnership with other worship ministries and leaders. One of the most meaningful and long-standing relationships is with David Bailey and his team at Arrabon. The word "arrabon" means a foretaste of what is to come, and Arrabon's goal is to equip congregations to engage in the work of reconciliation. Arrabon believes the Church should be a foretaste of a reconciled heaven to our divided world, and we in the CWA agree wholeheartedly.
During Black History Month, David is using the Arrabon weekly newsletter to highlight African-American "saints" whose lives are an encouragement in his own faith journey. There's much we can all learn from these spiritual role models.
The first of David's highlighted "saints" is Fannie Lou Hamer. As the youngest of 20 children born to a Mississippi sharecropping family, she taught herself to read and grew up to be one of the most influential leaders of the Civil Rights Movement. Her secret weapon? Songs and prayer.
One notable example was in 1962 when Ms. Hamer was with a group whose bus was stopped and fined for being "too yellow." The group was on their way home from being denied the right to vote due to an unfair literacy test. As officers humiliated individuals on the bus, Fannie Lou led the group to respond by singing "This Little Light of Mine." Her deep, resonant voice provided both strength and salve. She knew what it was to suffer, but she also knew what it meant to sing. 
Her example reminds us how we all need true, scriptural songs and friends to sing with as we work through our own struggles and hope. Here's a link to Fannie Lou Hamer leading a group in singing "This Little Light of Mine."
The second African-American church leader featured this month by David Bailey is Bishop Richard Allen. Bishop Allen is the founder of the African Methodist Episcopal (AME) Church, the first independent Black denomination in the United States. His simple but powerful faith enabled him to do extraordinary things.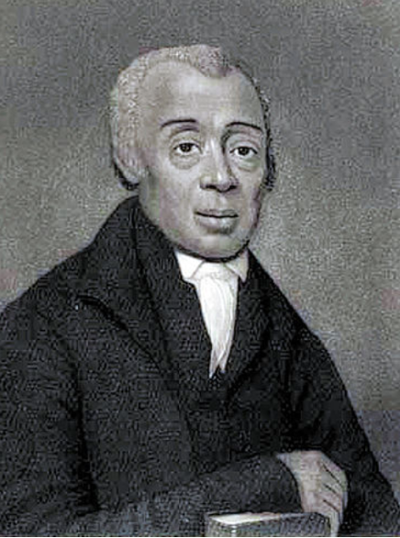 Born into slavery in 1760, Richard saw his mother and two older siblings sold away. As a child he taught himself to read and write, which helped him purchase his freedom in 1780 and go on to qualify as a preacher in the Methodist church.
For years he led a successful ministry to the black community in Philadelphia through the white-led St. George's Methodist Church. Allen and some friends were praying one day, when a white elder insisted that they must go to the balcony. Allen agreed to move after the prayer, but the white elder insisted on physically removing the group.
Spurred by this incident and other unnecessary segregation during worship, Allen and some friends led the black community within St. George's to start a new church community in 1787. This group became Mother Bethel Methodist Episcopal Church which operated a station on the Underground Railroad and helped new migrants to the city. It eventually had a membership of 7500 people, and developed into the AME denomination.
Bishop Allen always insisted that "the plain and simple gospel" was sufficient for all people, regardless of their skin color or background. He understood that all ground is level at the foot of the cross, even as he understood that his Black community must be permitted the space to worship in freedom. As we worship in our own communities today, may we remember that the plain and simple gospel always offers a path to greater freedom for all.
The Center for Worship and the Arts is thankful for and inspired by all that David Bailey and the Arrabon team do for the glory of God, for the good of the church.
David Bailey is the Founder and Executive Director of Arrabon, a ministry that exists to equip communities to effectively engage in the work of reconciliation.