Published on July 19, 2018 by Kara Young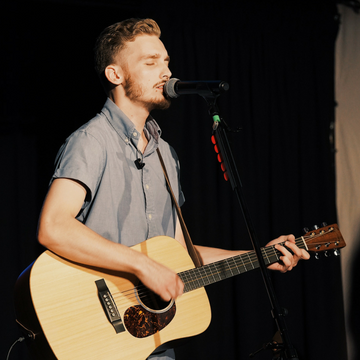 At only 16 years old, Dawson stepped into a ministry position at his home church. From planning and leading music to building media and managing the worship space, Dawson recounts countless opportunities he was given to not only practice leadership, but to serve. He now officially serves as Worship Pastor, specifically for a coffeehouse-styled worship service each Sunday morning at his church.
In preparation for Sunday services, Dawson spends hours in prayer and studying the scripture passage and theme before planning the set. He often connects with the preaching pastor or speaker, as well, for guidance. After planning the music and elements for the service, Dawson contacts and invites any other instrumentalists or leaders and conducts a rehearsal. The final part of his preparation process includes building the media and setting up the room. 
Aside from his worship leadership position, Dawson has spent this summer leading worship for a non-profit that facilitates weeks of mission-type service with youth groups around the country. After a day of rebuilding homes and serving local communities, he leads a worship service for all participants.
"I'm thankful for the opportunity not only to lead these students, but also to worship with them. It wasn't anything that I did those nights that made me feel such a spiritual high. It was simply the fact that God showed up every night and led us into his presence through me, and I pray that this is the case anytime I lead—that I get out of the way and let God speak," Dawson said.
Dawson's youth pastor, Chuck, has been mentoring him since he was in the fifth grade. Dawson credits Chuck's encouragement, intentionality, mentorship, and affirmation for the leadership opportunities he has today.
"It is very rewarding now to hear him speak at a worship service and say things that I taught him or that we learned together in by taking Samford University's Online Certificate in Worship Leadership program. Dawson has preached two Sunday morning services in the last couple of months, preaching on Christian worship," Chuck said.
Dawson is now 19 years old and attends Samford University where he serves as one of the campus worship leaders. He travels each weekend back to his home church to continue in his worship leadership position.