Published on October 5, 2018 by Madison Hablas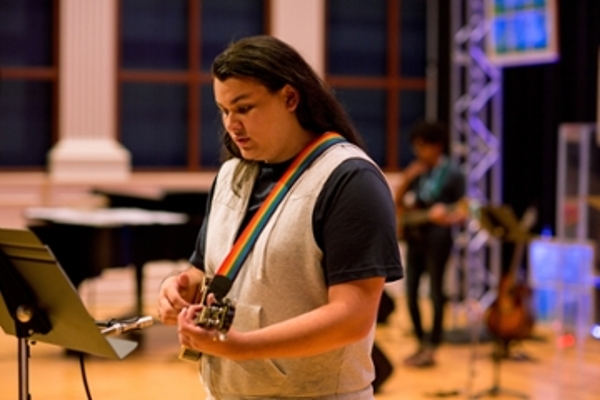 As a senior in high school, Kekoa is busy pursuing his many passions: singing in his high school choir, participating in the drama program, filming, jewelry making, and building.  He is also deeply invested in worship leadership, and it is a pursuit he pictures becoming a key part of his future.  Kekoa identified his calling to worship leadership at age 14, and he leads worship 2-3 times a month in his home church in Virginia.
Kekoa hopes to pursue a college degree  and continue his studies in seminary to best equip him for ministry.  He believes that as a worship leader, he has the ability to impact the community around him, helping shape God's people in worship.  When he leads worship, he feels God move in him, using him for building God's kingdom.  He hopes to make an impact through exuding joy when he leads worship.  
Kekoa understands research as a big part of worship preparation.  When he is leading, he loves to find ways to tie scripture and music together.  Kekoa believes the Bible is the place to start when preparing for worship.  Reading from God's Word and taking time to personally reflect on it, Kekoa argues, can open one's mind to ideas.  
Kekoa has attended Animate, Samford University's five-day program in worship leadership, the past four summers. Each year his love for worship grows stronger.  Animate has given Kekoa the skill set and experience to lead in his church and equipped him to be the worship leader he is today. 
Kekoa thanks his mentor, Judy, for bringing him to Animate four years ago and for her continual guidance  as he grows and learns as a worship leader.