Published on December 31, 2019 by Kristen Padilla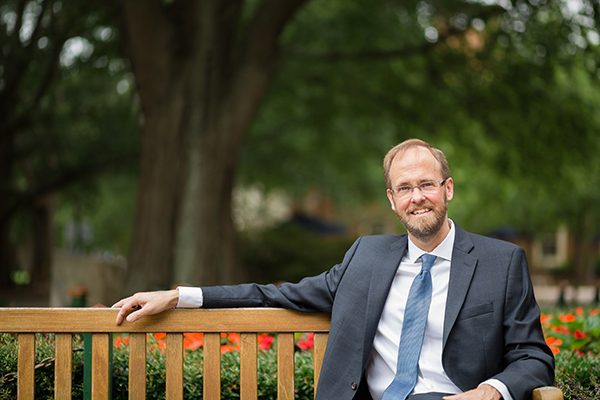 In 2019, Beeson Divinity School experienced the retirement of its founding dean, the welcoming of a new dean, a new scholarship, new appointments, and world-class scholars giving lectures. Here are our top nine news stories from 2019:
#9: Beeson launches new alumni-focused marketing campaign
Beeson Divinity School launched a new marketing campaign during the school's Alumni and Friends Breakfast, Nov. 22, at the 71st annual meeting of the Evangelical Theological Society in San Diego, Ca. The alumni-focused campaign called, "It's more than what you earn. It's who you become," features eight alumni sharing on video the ways in which God has used Beeson to shape them into the person and minister they have become. Read more.
#8: Beeson hosts Jewish Roots of Christianity conference
Since the Holocaust, both Jewish and Christian scholars have rediscovered the Jewish roots of Christianity. Taking advantage of this new research, the Institute of Anglican Studies at Beeson Divinity School sought to explore Christianity's Jewish roots by bringing leading scholars to discuss the continuing implications of these new findings for Christian theology and practice at its second Annual Anglican Theology Conference, held Sept. 24-25. Read more
#7: Beeson welcomes N. T. Wright, Mark Kinzer, Kelly Kapic and more for special lectures
2019 was a great year for guest lectures and lecturers. Abraham Kuruvilla of Dallas Theological Seminary gave Beeson's annual William E. Conger Jr. Lectures on Biblical Preaching, Feb. 19-21. Valérie Duval-Poujol, a Baptist biblical scholar from France, delivered Beeson's annual Biblical Studies Lectures, March 19-21. N. T. Wright of the University of St. Andrews gave the first Provost Distinguished Lecture series, Sept. 9-11. This lecture series included a debate with Mark Kinzer, president emeritus of Messianic Jewish Theological Institute. Multiple scholars came to campus Sept. 24-25 for the Institute of Anglican Studies at Beeson's second Anglican Theology Conference on the topic of the Jewish Roots of Christianity. Miriam Adeney of Seattle Pacific University gave the Go Global lectures, Oct. 8-10. Kelly M. Kapic of Covenant College gave the school's annual Reformation Heritage Lectures, Oct. 29-30. Russell Moore of the Ethics & Religious Liberty Commission of the Southern Baptist Convention delivered the December commencement address, Dec. 6.
#6: Dr. and Mrs. Alton Baker establish the General James M. Hutchens Military Chaplain Scholarship
Thanks to the generous gift of Dr. Baker and his wife, Mary, the General James M. Hutchens Military Chaplain Scholarship will be awarded to men and women enrolled in the Master of Divinity program and who are committed to pursuing a career in the military as an active duty chaplain. Read more.
#5: Michael Pasquarello appointed as director of the D.Min. program
Beeson's Michael Pasquarello III, Methodist Chair of Divinity and director of the Robert Smith Jr. Preaching Institute, was appointed director of the D.Min. program following the appointment of Tom Fuller (see #5). Read more.
#4: Tom Fuller appointed as associate dean
Thomas "Tom" L. Fuller was appointed as Beeson's associate dean in October, succeeding Beeson alum Grant D. Taylor, who had served in this role since 2015 and moved to Trinity Theological College in Perth, Australia, where he now serves as Academic Dean and Lecturer in New Testament. Fuller was previously Beeson's Director of Ministry. Read more.
#3: Timothy George Scholarship for Excellence fully endowed
Thanks to the generous gifts of alumni, colleagues and friends, the Timothy George Scholarship for Excellence is now fully endowed at just over half a million dollars. According to the scholarship agreement, the divinity school "will have an enhanced ability to attract top tier students who will guide, challenge and shape future generations of ministers and scholars for Christ's church throughout the world." Read more.
#2: Timothy George retires
In 2018, Timothy George announced he would retire as dean at the end of the academic 2018-19 year. His last day was June 30, 2018. After a yearlong sabbatical, he will return as research professor at the divinity school he founded. Read what he told the May graduates in his last commencement as dean.
#1: Douglas A. Sweeney named Beeson's second dean
Samford University announced the appointment of Douglas A. Sweeney as the second dean of Beeson ­Divinity School, effective July 1, 2019. A world-renowned scholar of American theologian Jonathan Edwards, Sweeney came to Beeson Divinity from Trinity Evangelical Divinity School in Deerfield, Illinois, where he was the Distinguished Professor and Chair of Church History and the History of Christian Thought and founding director of the Jonathan Edwards Center. His appointment followed a national search to replace Timothy George, who retired as dean at the end of the 2018-19 academic year. Read more about his appointment and his vision for the school.
We are grateful for the loving friendships, prayers and partnerships we have with many people around the world who believe in the mission of Beeson Divinity School to train God-called men and women for gospel ministry. We look forward to serving the Lord in 2020 and ask that you will continue to remember us in your prayers.