Published on July 22, 2019 by Kyle Young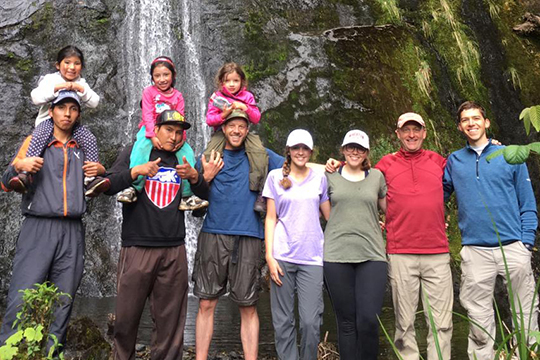 Before coming to Beeson, I taught high school social studies at an international school in La Paz, Bolivia, for three years. When I found out about that opportunity in 2013, I was a senior in college at Samford who had discovered the Global Center's pleasant atmosphere (and free coffee!). It was in this room that I got my first glimpse of Bolivia on a Skype interview. Little did I know that six years later I would again leave from the Global Center for the world's highest capital city. 
When I decided to pursue a missions certificate last year, I knew I would need to spend six weeks in a cross-cultural setting. Missing Bolivia and aware of service opportunities there, I asked Dr. David Parks if I could return to this "city in the sky" to fulfill my Cross-Cultural Ministry Practicum (CCMP) requirement. Since I am considering returning again in the future, he agreed. So on May 14, I flew out of Birmingham to return to La Paz for the first time since leaving three years ago.
Over the course of the CCMP, I was able to participate in a variety of ecclesial and missionary endeavors, from preaching in the mountains to hiking through the jungle with local families. I also had opportunities to meet up with individuals for discipleship, eat lunch with families from church, translate and teach in a couple of small group settings. And whether it was bowling at the mall or shining shoes on the streets downtown (I reflect more on that unique experience here), there were myriad relationship-building opportunities with my Bolivian brothers and sisters. 
Intertwined with the interpersonal activities were times to work on a strategy project for the SIM missionary team. There is currently a cohort of Bolivian pastors who are reading through Center Church in preparation for a partnership with City-to-City Latin America. (City-to-City equips pastors and lay leaders for gospel-centered ministry in urban areas.) I talked with my missionary friends who are leading the cohort, and they asked me to develop a sixteen-month contextualized curriculum for the pastors to use as they prepare for the partnership next year. So in my downtime, I met with the team leaders, read through resources, wrote and revised the project. During my last week in La Paz, I presented the final draft to the pastors and left them with the charge of adapting it even more to their cultural context.
Since I had spent nearly a tenth of my life teaching in La Paz previously, I had many connections with students, their families and staff at the school. While on my CCMP, I also had the privilege of seeing my last group of students graduate (who were freshmen when I taught them) and of meeting up with a number of former students who were back from college for summer vacation. Additionally, some major changes occurred within the leadership structure of my former school during my second week there. I was able to plan and lead a night of prayer for the staff as they face a period of transition. It was a special time of exposition, musical worship and prayer. 
Overall, the time I spent in La Paz this summer was very meaningful, and I am grateful I had the chance to return. I also realized while there how much my time at Beeson has shaped me over the past three years; it was a joy to put into practice some of the ministry skills I have learned. I look forward to seeing how both Beeson and Bolivia play a part in whatever is yet to come.