Published on December 31, 2020 by Kristen Padilla and Samuel Hagos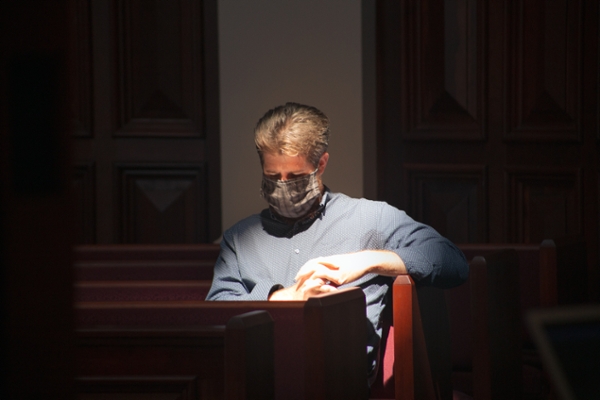 2020 was an unforgettable year for our world and school. While COVID-19 was the top story of this year and we grieve for the many losses as a result of this pandemic, God remained faithful to Beeson Divinity School and there is much for which we give thanks to God. As we look back at this year, here are our top eleven news stories from 2020:
Douglas Sweeney Installed as Dean
In January, Douglas A. Sweeney was installed as the second dean of Beeson Divinity School during the spring Opening Convocation service. Sweeney has served as dean since July 1, 2019 and has gifted Beeson with wise and visionary leadership since. Kevin Vanhoozer, longtime friend and former colleague of Sweeney, gave the convocation and installation address. The installation also served as a celebration of God's faithfulness to Beeson over its 31-year history.
Beeson Establishes Minority Student Fellowship
Also in January, Beeson established its first ever Minority Student Fellowship (MSF). The MSF seeks to prepare students to serve in minority church contexts, discuss challenges unique to minority students at Beeson, and provide fellowship with visiting speakers and each other. The MSF also elected officers for 2020-21: Samuel Hagos, president; Corey Savage, vice president; and Isaiah Cruz, secretary. Faculty members Osvaldo Padilla, Sydney Park, Robert Smith Jr., Ronald Sterling and Douglas Sweeney serve as the faculty advisers. This year, the MSF hosted events with Rev. Cokiesha Bailey Robinson, Rev. Dr. Charlie Dates, and a virtual conversation with Rev. Dr. Esau McCaulley.
Beeson Hosts African American Ministry Emphasis Month
In February, Beeson launched its first annual African American Ministry Emphasis Month. This special emphasis sought to highlight God's continued work among African American alumni and friends of Beeson and Samford. The Beeson community heard sermons from Rev. Dr. Ronald Sterling, Rev. Cokiesha Bailey Robinson, and Rev. Dr. Charlie Dates. Also, the Student Government Association sponsored a tour of the 16th Street Baptist Church, led by Beeson alumna and bombing survivor Carolyn McKinstry, and of the Birmingham Civil Rights Institute.
COVID-19 Stories of Alumni, Students
When COVID-19 hit in early spring and altered life as we knew it, Beeson wanted to tell stories of how alumni and students were meeting these new ministry challenges. Ministers had to re-imagine how they minister in the age of COVID-19. Pastors like Michael Novotny offered drive-thru communion to his parishioners. Hospital chaplains became frontline spiritual responders. Pastors like Rev. David Austin and his church, United Fellowship Community Baptist, saw escalating needs in their community. They rose to serve the Midfield community by providing free meals for members of their community who had been impacted by the COVID-19 shutdown. Watch Austin's interview on WBRC's Good Day Alabama.
May Commencement Goes Virtual
One of the tragedies of the COVID-19 pandemic was the loss of our in-person commencement and consecration service. Because we could not gather in May for commencement, Beeson faculty members paid tribute to the twenty-one May 2020 graduates with a word of congratulations in this video compilation. Along with the videos, each graduate was honored on Beeson's Facebook and Instagram accounts with their photo along with quotes from their professors. In August, Beeson, along with Samford University, held its first virtual commencement service. Beeson's dean and staff members paid graduates a socially distanced visit to their homes, congratulating them on their graduation and delivering them gifts.
Marketing and Communications Office Receives Awards 
Beeson's Marketing and Communications Office received numerous awards for their publications. The awards include an Award of Excellence for the Andrew Gerow Hodges Chapel brochure and 2019 Beeson Magazinepublications, and a Best in Class and Award of Excellence for Beeson's promotional video, "It's More than What You Earn. It's Who You Become."
Faculty Receives Awards, Publishes Books
This year, Beeson faculty were recognized for their excellent scholarship during an extraordinary year of publishing. Seven of Beeson's 20-member faculty published 12 books in 2020 with a few of these titles set to release at the beginning of 2021. Faculty also contributed more than 30 articles, book chapters and reviews in the past year. Read more about the books our faculty published as well as some contracted works to look forward to in the years ahead.
Beeson Endows a New Scholarship in Robert Smith Jr.'s Name
Beeson honors longtime Beeson professor and world-renowned preacher, Dr. Robert Smith Jr., with a new scholarship in his name. The scholarship steering committee is co-chaired by Smith's friend and Beeson D.Min. graduate, Rev. Dr. Ralph West Jr. Sixth Avenue Baptist Church and Dawson Memorial Baptist Church, both pastored by Beeson graduates, have made lead gifts to fund the scholarship. The Dr. Robert Smith Jr. Endowed Scholarship will provide significant tuition assistance to outstanding applicants who are called to the preaching ministry.
Rob Willis Earns M.Div. After 24 Years, Wins Student Preaching Award
After enrolling in his first class at Beeson Divinity School in 1996, Beeson's technology and media manager, Rob Willis, graduated 24 years later with a Master of Divinity degree in December. Willis was also awarded the James Earl Massey Student Preaching Award and preached a sermon in Hodges Chapel from Rev. 7:9-12; 21:1-4, 21-27 called, "The Presence is the Point." Read more about Rob's story, watch his sermon preached in Chapel, and listen to him on the Beeson podcast.
Samford, Beeson Create Accelerated Undergraduate Pathway to M.Div. Degree
Samford University has created an accelerated professional pathway for select undergraduate students called to ministry, giving them the opportunity to earn a Bachelor of Arts (B.A.) degree and Beeson Divinity School Master of Divinity (M.Div.) degree in six years rather than the typical seven. Applicants majoring in biblical studies, religion, religion with a concentration in ministry leadership or Christian ministry will be evaluated on their academic performance, spiritual maturity and vocational clarity.
Beeson Finishes the 2020 Year with In-Person Education
With a lot of prayer and by the grace of God, Beeson was able to complete the entire fall semester on campus and in person. The Beeson community did a wonderful job abiding by COVID-19 Samford protocols and requirements. Though the semester looked different than we would have liked, we rejoice that we were able to finish in person.