Published on May 26, 2020 by Sara Roman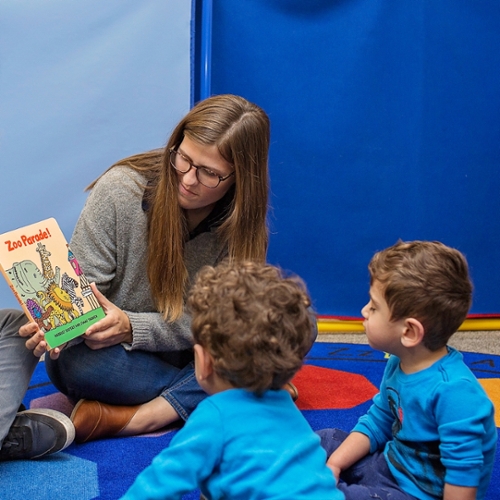 As school systems across the country transitioned to online learning in response to the COVID-19 pandemic, many school-based speech and language services were disrupted. However, Kelly Jackson, speech-language pathologist and clinical lab coordinator for the School of Health Professions Department of Communication Sciences and Disorders, says parents can continue developing speech and language skills at home.
 First, Jackson says families should reach out to their school systems and current service providers to explore options for virtual summer services. However, if your school or provider is not offering virtual services, Jackson says do not be discouraged because children who regress can rebound.
"With an interruption or change in services, delivery or environment, you may see children lose some of their skill progress. Children are going through significant routine and life changes which may impact their performance. As routines resume and children get back to their pre-pandemic lives, you are likely to see progress again," she says.
In the meantime, Jackson says parents should utilize daily interactions and activities to help build their child's social, speech and language skills. 
For parents looking for creative ways to aid their child in developing social cues, Jackson says look no further than the technology already used in the home. Since very little body language can be seen from a video, it is even harder to interpret social cues during virtual connections. For children who have difficulty picking up on social cues and social aspects of language, Jackson says utilizing video calls can be a huge asset.
"Practicing virtual connections can give children with speech and language disorders the chance to see what the situation will look like and how to appropriately respond and interact," says Jackson. "Continue connecting virtually with friends, family and even teachers or therapists. These connections can also go a long way in comforting a child by providing a sense of normalcy." 
To aid children in further developing speech and language skills, Jackson suggests using puzzles, crafting, nature walks and story time to help build vocabulary. As you talk through the activity, you increase the number of words your child is exposed to. Singing songs and rhymes can also be helpful in practicing sounds and words.
Children love to learn and one way that parents can help their child learn is through reading.  Parents can read aloud to their children but Jackson says they can also read in such a manner where the child is engaged, called "shared reading".  This might look like a parent reading a portion of the story and then asking their child, "what do you think will happen next"?  This way, the child is engaged and can participate in the reading experience.  
Ultimately, Jackson says parents and caregivers often forget that just including children in daily activities helps build vocabulary and meets speech and language needs. From following directions to bedtime stories, parents are often helping their child progress more than they realize. 
"Parents aren't trained to be teachers or speech pathologists. It is ok if the learning activity or craft you planned for your child was a complete failure. You are trying and that is what matters," says Jackson. "Children will return to school and they will resume their therapy services eventually. Teachers and therapists will pick things up wherever the children are and we will move forward from there. If you are doing the best you can, you are doing great."