Published on August 19, 2020 by Sara Roman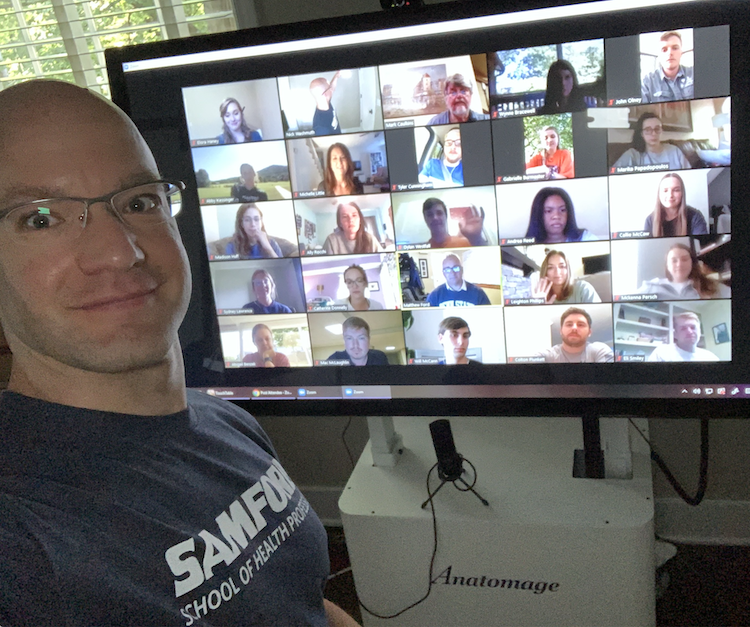 This summer, the new Doctor of Physical Therapy cohort began their program of study completely online. Typically, the cohort would have utilized the on-campus cadaver lab for their first semester anatomy course; however, Mark Caulkins, assistant professor, and Nick Washmuth, associate professor, utilized the School of Health Professions Anatomage Table for digital cadaver dissection so that the students could complete their first course in a safe environment.
The Anatomage Table is an advanced 3D anatomy visualization system for anatomy and physiology education. The table provides users with the ability to visualize anatomy exactly as they would on a cadaver. All aspects of the human body are reconstructed to an accurate, dissectible 3D structure.
Following the University's transition to online learning, Washmuth had the school's Anatomage table delivered to his house and began working with the Anatomage company to install software that would allow students to see the table's screen in real-time and with real-time audio. The Anatomage Table is now fully functional for distance learning.
According to Washmuth, students also have access to digital cadavers through an Anatomage Cloud system. Through their computers, students can utilize four digital cadavers and can convene in small groups virtually to dissect the cadavers together just as they would if they were on campus.
Following digital cadaveric dissections, Washmuth and Caulkins are able to quiz the students on their findings in real-time. "I am able to host a Zoom meeting, share my prosected digital cadaver with the students via Zoom and quiz them on their knowledge of anatomic structures and function," said Washmuth.
"We are living in unprecedented times, and I am thrilled to see our faculty enhancing student learning by fully utilizing the technologies we have available," said Matt Ford, professor and Department of Physical Therapy chair. "This is an outstanding use of technology by two exceptional faculty members. I have no doubt our new cohort of students will be well prepared for applying anatomy to learning the physical therapy exam process."