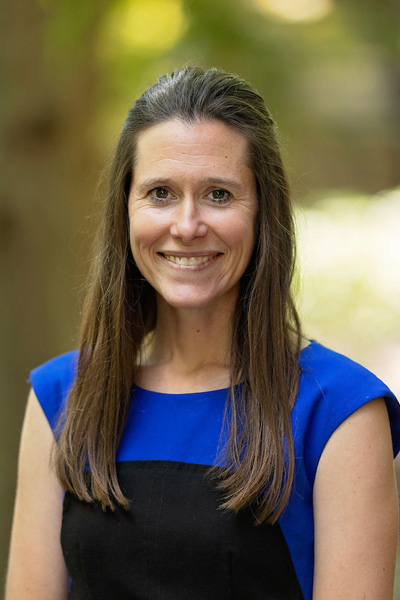 Rachel Joy Hagues
, Ph.D., M.S.W.
Assistant Professor
School of Public Health
Department of Social Work
Office: CHS Building 1 1599
A native of Georgia, Dr. Rachel Hagues has been teaching at the University of Georgia as an adjunct professor and conducting qualitative research since 2013. Before pursuing her Ph.D., she worked several years at the Carl Vinson Institute of Government, practicing social work at the macro/policy level and volunteering at Mercy Health Center, a Christian medical clinic that provides free care to the uninsured. Her desire is to see redemption brought to the lives of the most vulnerable. For the last several years she has worked in a remote community in Tanzania with women and girls. Her dissertation looked at gender discrimination issues in that community. As a result of that work, she is currently partnering with community members to establish a private secondary school for girls. Hagues is an avid runner and can appreciate a good race. She and her husband Greg like exploring the world with their two-year-old daughter, Charis. 
Degrees and Certifications
Ph.D., human development and family science, University of Georgia
M.S.W., social work, University of Georgia
BSFCS, child and family development, University of Georgia
Awards and Honors
Dissertation Completion Award, University of Georgia Graduate School, 2012
Jewell L. Taylor National Fellowship, American Association of Family and Consumer Sciences, 2012
Feldman Outstanding Research Proposal, National Council of Family Relations Family Policy Section
Publications
Hagues, R. & Parker, H. (2014). Girls' Development in Tanzania: Empowering Girls through Creative Exploration. Journal of Community Engagement and Scholarship, 7(2). 
Hagues, R. (2013). The U.S. and the Convention on the Rights of the Child: What's the Hold-up? Journal of Social Work, 13(3). DOI: 10.1177/1468017313476983
Coleman, T., Hagues, R., & Wallinga, C. (2012). Ensuring Our Voices are Heard: A Primer for Communicating with Legislators. Childhood Education, 88 (2), 75-80. DOI: 10.1080/00094056.2012.662114
Presentations
Hagues, R. "The Girl is Brought up Knowing She's Nothing": Promoting Equality in Tanzania. Paper Presentation. National Council on Family Relations. November 19-22, 2014. Baltimore, Maryland.
Hagues, R. Sex for soap? Adolescent Tanzanian girls' use of transactional sex. Paper Presentation. National Council on Family Relations. November 6-9, 2013. San Antonio, Texas. 
Hagues, R. "We ask the government to take action on men that get schoolgirls pregnant": Curbing gender discrimination in Tanzania. Poster Presentation. Society for Research in Child Development Biennial Meeting. April 18-20, 2013. Seattle, Washington. 
Hagues, R. Using Critical Ethnography to Make Their Voices Heard. Paper Presentation. Society for Cross-Cultural Research Annual Meeting. February 20-23, 2013. Mobile, AL
Research
Gender discrimination of schoolgirls, qualitative research with SNAP-Ed eligible participants regarding how social marketing can improve nutrition
Involvement
National Council on Family Relations