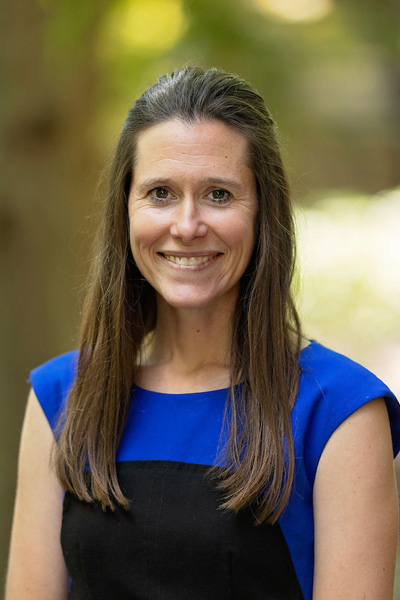 Assistant Professor
School of Public Health
Department of Social Work
Office: 1599 CHS Building 1
Rachel Hagues is an assistant professor Samford University's Department of Social Work. Her research goals center around providing voice to vulnerable populations and confronting oppression. Before pursuing a Ph.D., she worked several years at the Carl Vinson Institute of Government practicing social work at the macro/policy level and volunteering at Mercy Health Center, a Christian medical clinic that provides free care to the uninsured. Her desire is to see redemption brought to the lives of the most vulnerable.
For the last several years she has worked in a remote community in Tanzania with women and girls. Her dissertation looked at gender discrimination issues in that community. As a result of that work, she is currently partnering with community members to establish a private secondary school for girls. Hagues also collaborates with colleagues David Cecil and Ken Stoltzfus to learn about the German response to the refugee crisis in hopes to learn best practices to prepare social workers to best respond. Rachel teaches courses on Human Rights, Social Justice, Community and Global Development. Hagues is an avid runner and can appreciate a good race. She and her husband like exploring the world with their two young daughters.
Degrees and Certifications
Ph.D., human development and family science, University of Georgia
M.S.W., social work, University of Georgia
BSFCS, child and family development, University of Georgia
Awards and Honors
Mann Center Fellow in Community-Based Learning, 2018-19
Alumni Outstanding Service Award from the University of Georgia's College of Family and 

Consumer Sciences, 2016

Dissertation Completion Award, 2012
Expertise
Global community developement and collaboration
Publications
Cecil, D., Stoltzfus, K., & Hagues, R. (In-press). The Role of Faith and Faith Based Organizations in the German Response to the Refugee Crisis. Social Work & Christianity.

Hagues, R., Stotz, S., Childers, A., Lee, J., Phua, J., Hibbs, J., & Murray, J. (2018). Social Marketing Nutrition Education for Low Income Population. Social Work in Public Health. DOI: 10.1080/19371918.2018.1469065

Hagues, R. (2017). "The girl is brought up knowing she's nothing": Listening to the voices of Tanzanian women and Girls. Children & Schools, 39(2), 109-117.

Hagues, R., Bae, D., & Wickrama, K.A.S. (2016). Mediational pathways connecting secondary education and age of marriage to maternal mortality: A comparison between developing and developed countries. Women & Health, 1-19. DOI: 10.1080/03630242.2016.1159266

Hagues, R. & Parker, H. (2014). Girls' Development in Tanzania: Empowering Girls through Creative Exploration. Journal of Community Engagement and Scholarship, 7(2). Retrievable at: http://jces.ua.edu/

Hagues, R. (2013). The U.S. and the Convention on the Rights of the Child: What's the Hold-up? Journal of Social Work, 13(3). DOI: 10.1177/1468017313476983
Presentations
Hagues, R. (invited). "Potentials of community development in refugee contexts." International Social Work Week. June 4-8, 2017. Wurzburg, Germany.

Cecil, D., Hagues, R. & Stoltzfus, K. "Helping the people in front of me": An analysis of the lived experiences of German social workers responding to the refugee crisis. Oral Presentation. International Social Work Conference. November 13-17, 2017. Wurzburg, Germany.

Cecil, D., & Hagues, R. Religion and Spirituality in Social Work Practice & Training. Oral Presentation. International Social Work Conference. November 13-17, 2017. Wurzburg, Germany.

Hagues, R. "Human flourishing from a macro perspective: Ensuring our clients live in a world that allows them to thrive." Oral Presentation. Health & Human Flourishing Conference. March 23-25, 2017. Klaipėda, Lithuania.

Hagues, R., Cecil, D., & Stoltzfus, K., "Evidence of Faith in the German Social Work Approach to Refugees." Oral Presentation. National Association of Christian Social Workers. Fall 2017. Charlotte, N.C.

Hagues, R., Stoltzfus, K., & Cecil, D. "Caring for Refugee Families: Exploring the Role of Social Service Providers." Poster Presentation. National Council on Family Relations. November 3-5, 2016. Minneapolis, Minnesota.
Research
Gender issues in northern Tanzania
Social workers' response to resettling refugees under crisis
Qualitative research with vulnerable populations
Involvement
International Justice Mission, Samford Chapter, Faculty Advisor
Council on Social Work Education
North American Association of Christian Social Workers
National Council on Family Relations