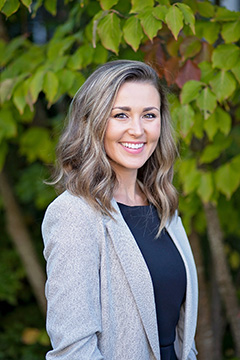 Assistant Professor and Director, Healthcare Administration Undergraduate Program
School of Public Health
Department of Healthcare Administration and Informatics
1595 CHS Building 1
Degrees
Ph.D., Public Administration & Public Policy, Auburn University
M.P.H., Public Health Administration, East Tennessee State University
B.S., Health Administration & Community Health, with a minor in marketing, East Tennessee State University
Awards and Honors
Samford University Professor of the Game, 2021
Birmingham's NextGen: Rising Stars of Education and Workforce Development Award Recipient, 2020
Auburn University's 2020 Women of Distinction Alumnae Award Recipient, 2020
Auburn University's 2020 Distinguished Dissertation Award Recipient, 2020
Thirty Under 30 Alumni Recipient, Auburn University's College of Liberal Arts, 2020
Global Student Entrepreneur Awards National Finalist, 2019
Southern Management Association's Healthcare Management Track, Best Doctoral Student Paper Award, 2017
The Beryl Institute Scholar, 2017
Involvement 
American Society for Public Administration (ASPA) Alabama Chapter, vice president
Association of University Programs in Health Administration, member and certification reviewer
Academy of Management, member
Southern Management Association, member
Southern Conference for Public Administration Member, member
Expertise
Healthcare administration
Public health
Quality improvement
Leadership
Recent Publications
Haun, C.N., (2021). Examining the Influence of Proximal Density to Nursing School Location on Quality Outcomes in Nursing Homes: An Expanded Study. Nursing Economics.
Haun, C.N. (2021). A Double Hit: COVID-19 and Childhood Obesity. Global Journal of Nutrition & Food Science. 3 (3), 1-2.
Haun, C.N., Mahafza, Z.B., Silvera, G.A. (2018). A Study Examining the Influence of Proximity to Nurse Staffing Resources on Quality of Care Outcomes. INQUIRY: The Journal of Health Care Organization, Provision, and Financing. 55.
Fisk, J.M., Silvera, G.A., Haun, C.N. (2018). Developing and Assessing Diversity. Public Integrity.1-14.
Haun, C.N., Mahafza, Z., Good, A.J., Nettey, V. (2017). Childhood Obesity: A Survey of the Nutrition and Physical Activity Components of the Coordinated School Health (CSH) Program in Rural Areas. Contemporary Rural Social Work, 9(1), 5.
Silvera, G.A., Haun, C.N. and Wolf, J.A. (2017). Patient Experience: The field and future. Patient Experience Journal (PXJ), 4(1), 7-22. 
Recent Presentations
Haun, C.N. Rocket Launching Leadership. Samford University - Leadership Lunch Series (2021)
Silvera, G.A., Haun, C.N. Technology About Me Without Me: An Examination of the Relationship between Patient-facing Health Information Technology and Patient Evaluations of the Interpersonal Care Experience. Organizational Theory in Health Care Association Conference (2021)
Davey, K. S., Haun, C.N. Embedding Undergraduate Research in a Healthcare Administration Program Using a Course-Based Approach. AUPHA Annual Conference (2021)
Haun, C.N., Mahafza, Z. Current Challenges & Current Solutions: An Online Discussion, ASPA Alabama Chapter Meeting (2020)
Haun, C.N., Ratcliffe, C.J., Robbins, D.E., Davey, K. S., Kinnerson, L., McCay, D. Obstacles & Opportunities: Leveraging Interprofessional Collaboration & the QM Rubric to Design & Deliver Health Administration Programs Amid COVID-19. Samford University Mini-Conference (2020)
Haun, C.N. Golden Key New Member Recognition Event Keynote Speaker (2019)
Fisk, J.M., Silvera, G.A., Morris, J.C., Chen, X., Chen, X., Crayton, M., Haun, C.N. Diversity and City Hall. Auburn University - College of Liberal Arts - Diversity Research Symposium. Auburn, AL (2019)
Haun, C.N. Examining the Influence of Proximal Density to Nurse School Location on Quality of Care Outcomes in United States Hospitals. Southeastern Conference for Public Administration (SECoPA). Baton Rouge, LA (2019)
Haun, C.N. Examining the Influence of Proximal Density to Nurse Education Resources on Quality of Care Outcomes. Academy of Management (AoM). Boston, MA (2019)