Published on December 31, 2021 by Kristen Padilla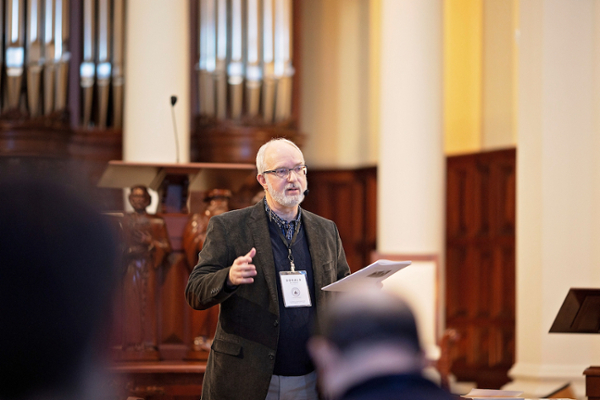 As we look back over 2021, we give thanks to God for his sustaining goodness to our school. Despite still having to navigate COVID, Beeson Divinity School continued offering in-person theological education and resources for the church. As we look back, here are our top news stories from 2021:
Beeson Launches New Center for Women in Ministry
Beeson launched a new Center for Women in Ministry at the beginning of 2021 to encourage and equip women called to Christian ministry and to serve as a resource for the church of Jesus Christ for the edification of the church and for the thriving of women in ministry. The Center hosted its first Women in Ministry Conference in July, sponsored events for divinity and preseminary female students, provided mentoring, started a small library on campus, and more.
Beeson Announces New Certificate of Wesleyan Studies
Beeson announced in April a new Certificate of Wesleyan Studies for Master of Divinity students who intend to pursue ordination in a Wesleyan denomination. The Certificate of Wesleyan Studies program will satisfy educational requirements stipulated by several Wesleyan denominations and will prepare Wesleyan students for life and ministry in their churches. The certificate gives attention to Wesleyan history and doctrine, worship, polity, spirituality, ministry and mission. The new certificate program will be directed by Beeson's Methodist Chair of Divinity, Michael Pasquarello III.
New Scholarships Named for Gregory Tippins, Jennifer Davis Rash and Dolores Emanuel Nation Established at Beeson
Three new scholarships were established at Beeson in 2021 and named in memory of Gregory Tippins and Dolores Emanuel Nation and in honor of Jennifer Davis Rash.
Gregory Tippins was all set to graduate from Samford University's Beeson Divinity School in December 2020 with his Doctor of Ministry degree. But COVID-19 took his life two months shy of that milestone. Tippins' legacy will also live on in the ministry of future Beeson students through the new Rev. Gregory Tippins Scholarship, which will be awarded in his honor to Master of Divinity students who need financial assistance.
The Dolores Emanuel Nation Endowed Scholarship will be used to provide financial support for Southern Baptist students preparing for ministry to attend Beeson Divinity School. Started by her husband and son, both who are named Philip, Nation's son, a Beeson graduate, hopes that by naming this scholarship for his mother, future recipients of the scholarship will always keep in mind the person in the pew to whom they will be ministering.
A new scholarship named in honor of Beeson alumna Jennifer Davis Rash, president and editor-in-chief of The Alabama Baptist (TAB), will provide financial aid for Southern Baptist women and other minorities at Beeson Divinity School. The scholarship was announced Feb. 25 at the TAB board of directors meeting in honor of Rash's 25th anniversary at the publication—a milestone she says wouldn't have been possible without Beeson.
Beeson Names Eddie Gibson Alumnus of the Year for 2021
Eddie Gibson, a Birmingham pastor and founder of the Eddie Gibson International Ministries, was named Beeson's Alumnus of the Year. Renee Pitts, a Beeson alumna who nominated Gibson for the award, said over the years she has observed him to be "extraordinarily generous with his time and resources."
"He lives his life open to those around him, ready and available to give and to serve in any way," said Pitts, who serves as STEP Coordinator at Entrust, a cross-cultural training organization that comes alongside local church leaders around the world to help them develop strategies to multiply leaders and churches.
Beeson's Lay Academy Celebrates Its 20th Anniversary
Beeson Divinity School's Lay Academy of Theology celebrated 20 years of faculty-led continuing education for ministers and laity in the Birmingham-area this fall.
"The Lay Academy is central to the mission of Beeson Divinity School," said Douglas A. Sweeney, dean of Beeson Divinity School. "We're here to serve the church, which means that we're here to support churches, buttressing their discipleship ministries with faithful, high-level biblical and theological teaching. We hope that more and more people in the Birmingham area will take advantage of this program every year."
Beeson Faculty, Alumni Edit New ESV Concise Study Bible
Crossway's ESV Concise Study Bible, which has a strong Beeson Divinity School connection, was released on Oct. 7. The purpose of the new publication is to offer the strengths of the much larger ESV Study Bible in a more accessible, understandable and relatable form to a broader readership.
Comprising the committee of editors were Beeson Divinity faculty members: Paul R. House and Frank Thielman; Paul's wife and veteran editor, Heather House; Grant Taylor, Beeson alumnus and former associate dean; and Ethan and Kadie Smith, who are married and both Beeson alumni.
Beeson Hosts First Annual Alumni Conference
Beeson Divinity School hosted its first Annual Alumni Conference after having to postpone it two times due to the COVID pandemic. Held in conjunction with Samford University's Homecoming Week, Nov. 4-6, the conference featured Dr. Donald Guthrie of Trinity Evangelical Divinity School speaking on his book, Resilient Ministry. The conference also included an alumni banquet with Beeson alumnus Jacob Simmons and his improv comedy group providing entertainment. The conference was sponsored by Beeson's Thriving Pastors Initiative.
Timothy George Receives Lifetime Achievement Award
Timothy George, founding dean and distinguished professor of divinity at Samford University's Beeson Divinity School, received the Lifetime Achievement award from Southwestern Baptist Theological Seminary (SWBTS) on Nov. 17 during the 73rd annual meeting of the Evangelical Theological Society (ETS), which convened its annual meeting this year in Fort Worth, Texas, the home of SWBTS. George, who served as the vice president of ETS this past year, is now its current president-elect.