Published on May 22, 2020 by Sara Roman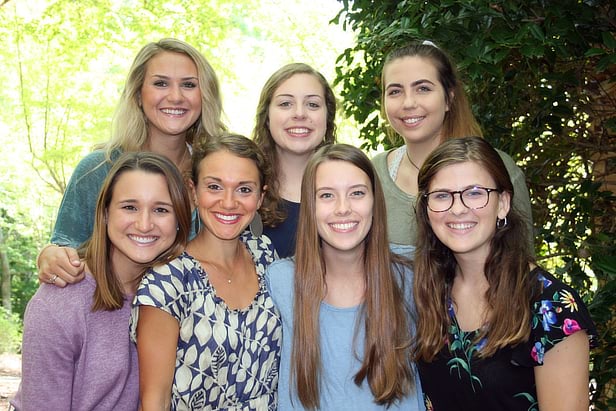 The National Student Speech Language Hearing Association (NSSLHA) has awarded Samford University's National Student Speech Language Hearing Association chapter (SUNSSLHA) with gold chapter honors for the 2019-2020 academic year. Last year, the chapter received bronze honors and was the only chapter in Alabama to be recognized. 
NSSLHA is a student organization for pre-professionals studying communication sciences and disorders. It is the only communication sciences and disorders student organization recognized by the American Speech-Language-Hearing Association.
Ranked at the top tier of the association's more than 320 college and university chapters, Samford's gold ranking recognizes its outstanding commitment to service, community outreach and legislative advocacy.
This past year, SUNSSLHA members advocated for communication disorders awareness at many university events and hosted two workshops in partnership with the Career Development Center. Members also volunteered at the Bell Center, planned an event at the Brookdale Assisted Living Center, worked on several projects with Capernaum and collected toys for Children's Hospital of Alabama.
"I am so proud of our chapter and all we have accomplished this year. The impact we have had on both Samford and our local community has been far more than we expected," said Lauren Falink, chapter president. "I am so grateful for the opportunity to serve this organization alongside my outstanding colleagues. We have all learned so many things along the way. It has truly been an incredible year."
The organization also worked to facilitate interprofessionalism across programs in the School of Health Professions and the undergraduate and graduate programs within the department. Efforts included interview and resume workshops intended to guide upperclassmen students applying to jobs and graduate school.
In regards to advocacy, SUNSSLHA members participated in a letter-writing campaign to protect graduate education in communication sciences and disorders. Approximately 33 students wrote letters to members of Congress in support of modernizing higher education to increase access to the field by improving affordability.
"We are immensely proud of the advocacy efforts performed by our chapter," said Laura Promer, communication sciences and disorders instructor and SUNSSLHA faculty adviser. "The leadership has invested a great deal of time planning community outreach, legislative advocacy activities and campus events. The scope of their activities reflects the depth and breadth of the profession as they promote interest and encourage service within the Communication Sciences and Disorders department."