Published on August 4, 2020 by Sara Roman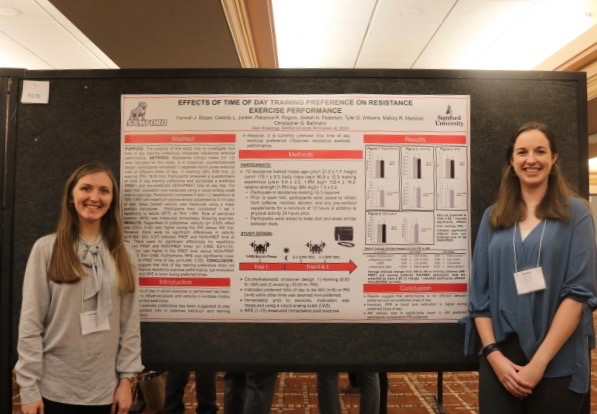 Many individuals looking to get the most out of their workouts often wonder what time of day is best for exercise. While the majority of past evidence suggests that exercise performance is better in the afternoon, prior research did not consider a potential variable— an individual's preferred time of day for training. Hannah Blazer and Cassidy Jordan, health sciences majors in the School of Health Professions Department of Kinesiology, used their senior research project to test this variable's effects.
During the study, 12 male participants completed a questionnaire identifying their preferred times to train and then tested the preference through a series of exercises. Participants performed a series of bench-press exercise during their corresponding preferred and non-preferred times. The exercises measured workout performance variables such as bar velocity and total repetitions completed until failure were measured. Additionally, psychological assessments of rate of perceived exertion (RPE) and motivation were measured.
"Motivation and RPE were key indicators in our study," said Jordan. "Prior to the exercise, the subject indicated how motivated they were to perform the movement and after the exercise session was concluded the subject shared their RPE or how difficult they felt the exercise was to perform."
The study results showed that when accounting for time of day training preference, there were no differences in exercise performance between the preferred and non-preferred training times. However, motivation was significantly higher and RPE was lower during the participants' preferred time of day. After assessing their findings, Blazer and Jordan suggest individuals can train at preferred or non-preferred times of day and perform similarly. However, the pair also state that increasing motivation and decreasing RPE could increase the likelihood an individual will continue training.
"Prior research has shown that when a subject is more motivated and feels lower RPE, exercise adherence goes up because the individual is more likely to enjoy training and therefore stick to the exercise program," said Blazer.
Given these findings, the student-authors recommend training at preferred times of day whenever feasible.
Since concluding their research, Blazer and Jordan have received significant attention for their findings. The pair was selected to present at the Southeast American College of Sports Medicine Conference and their work was professionally published in Research Quarterly for Exercise and Sport. The research was completed with the mentorship of Christopher Ballmann, School of Health Professions assistant professor, and faculty coauthors Rebecca Rogers, Tyler Williams, Mallory Marshall, and Joseph Pederson. 
All undergraduate kinesiology students are required to complete a research study of their choosing prior to graduation. The emphasis on research has made the department one of the most unique programs in the nation. "Regardless of the student's career goals the research process impacts valuable learning objectives that have lasting influences as undergraduates prepare for professional service. Students are gaining the ability to integrate theory and practice within the research topic of their choosing," said John Petrella, professor and chair of the department of kinesiology. Since May, the department has published six student research projects and they have several others currently in review.