Published on April 10, 2018 by Sarah Waller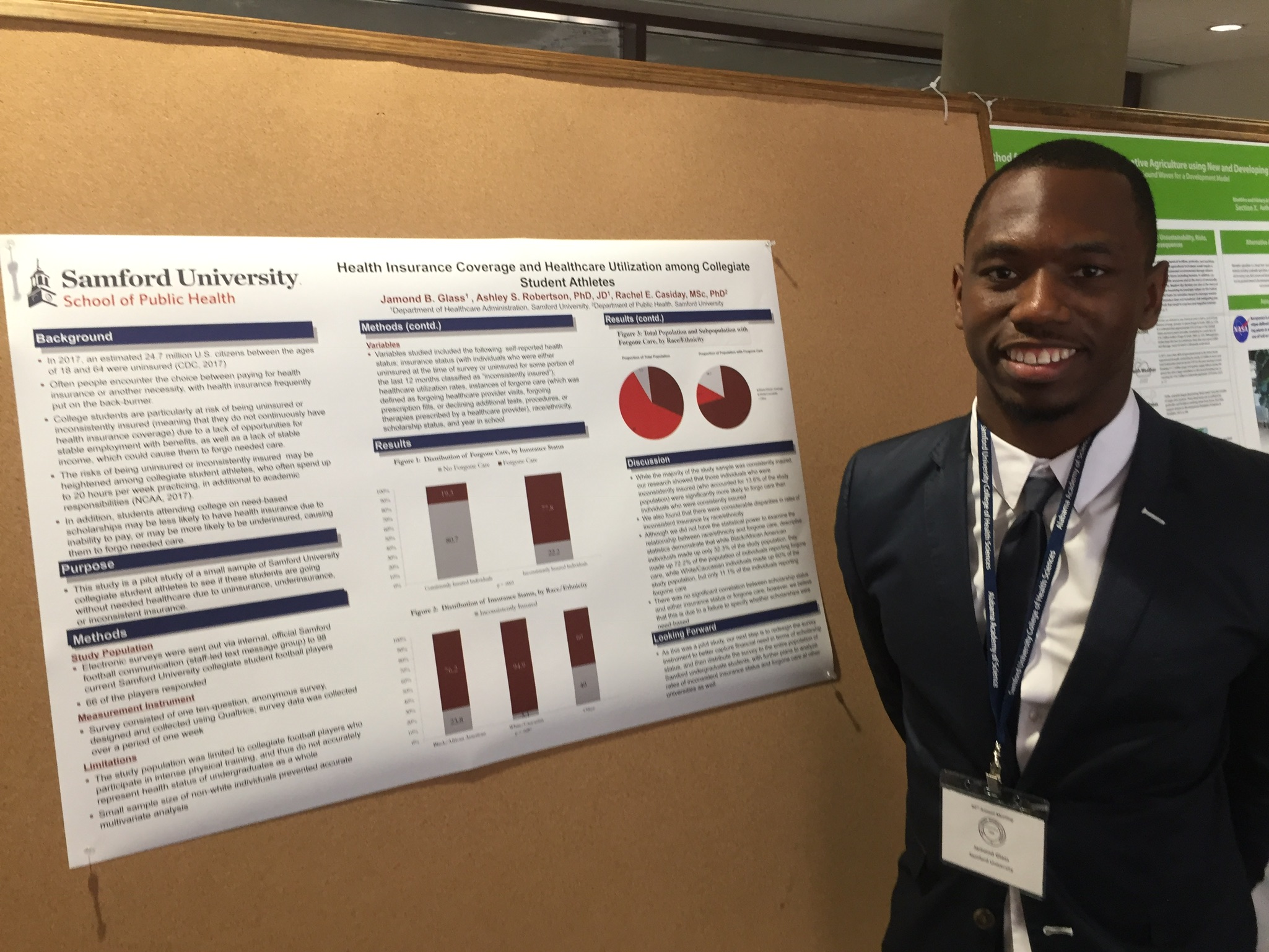 Jamond Glass is a junior healthcare administration major in Samford University's School of Public Health.
What attracted you to Samford's Healthcare Administration major?
I was not introduced to healthcare administration until after I started at Samford. In my sophomore year, I narrowed down my choices to healthcare administration and computer science, but after taking a course in both majors, I figured out healthcare administration was the major for me. I fell in love with the leadership aspect of healthcare administration, and shortly after developed a passion for the field once I learned more about it.
You recently presented research at the Alabama Academy of Science and won first place in the Health Sciences category. Can you tell a bit about your research?
The topic of my research was Health Insurance Coverage and Healthcare Utilization among Collegiate Student Athletes. In this research, we found that majority of the student athletes were consistently insured, but the individuals who were inconsistently insured were significantly more likely to forgo care than individuals who were consistently insured.
We also found that there were considerable disparities in rates of inconsistent insurance by race/ethnicity. Although we did not have the statistical power to examine the relationship between race/ethnicity and foregone care, the minority (Black/African American and Other) made up most of the population who had foregone care in the last 12 months—which means that there are student athletes who are underinsured and that is a problem.
It is important to note that this study was a pilot study.
What surprised you the most throughout the research process?
I was expecting a larger percentage of the sample population to be uninsured because I was once an uninsured student athlete for a period of time. In the research findings, this was not the case. I also was expecting scholarship status to have an effect on insurance status, but it did not. We believe that this is due to a failure to specify whether scholarships were need-based. In the study there wasn't enough statistical power to examine some of our variables relationships which seemed to be only obstacle faced in the study.
Is there more work to be done? What are your plans for moving this research forward?
In the future, the study will be redesigned to better capture financial need in terms of scholarship status to overcome the obstacle we faced in the pilot study. Plans moving forward consist of redistributing the survey to the entire Samford undergraduate population, with further plans to analyze rates of inconsistent insurance status and foregone care at other universities as well at a statewide level, then a regional level. The goal is to not let the research die and inform people around the nation of this health care issue in universities. I am also in search of grants to fund this research on a higher level.
Was there someone who played an important role in your research?
Yes, both Dr. Robertson, an assistant professor in Department of Healthcare Administration and Dr. Casiday, an associate professor in the Department of Public Health, guided me in my research study. I couldn't have done this study without them as they helped me use different logistic programs, develop ideas, and taught me how to conduct myself in a professional manner.