Published on December 20, 2019 by Sarah Waller  
Grace Okoro's career with the Jefferson County Department of Health began when she was still a graduate student. As a part of the Master of Public Health program with Samford University's School of Public Health, she completed an internship with the organization. While the experience was intended to last a semester, she asked if it could be extended. In October 2018—two months before graduation—the department offered Okoro a full-time role. 
With her new degree, Okoro began working in the field of environment health as the tobacco control and prevention coordinator. "Our goal is to help people in Jefferson County either stop smoking or convince them not to start smoking in the first place," Okoro said. "And with the rise of e-cigarettes, we've become very vocal and on point with our education pieces about vaping and e-cigarettes, specifically in reference to youth access."
Just one year into her role, Okoro had the opportunity to participate in a major initiative for the Jefferson County Department of Health and its partners. In October 2019, the Birmingham City Council unanimously approved an ordinance that established a non-smoking health district that spans 100 city blocks on the southside of the city.
Within this district—which includes Children's of Alabama, Southern Research, University of Alabama at Birmingham, Veteran Affairs Medical Center and others—the ordinance protects both indoor and outdoor air, prohibiting smoking on public property like streets and sidewalks.
"We're really focused on having Jefferson County be completely and totally smoke free—whether that be through helping communities initiate 100% comprehensive smoke-free ordinances or coming in with local coalitions or agencies to educate people on the dangers."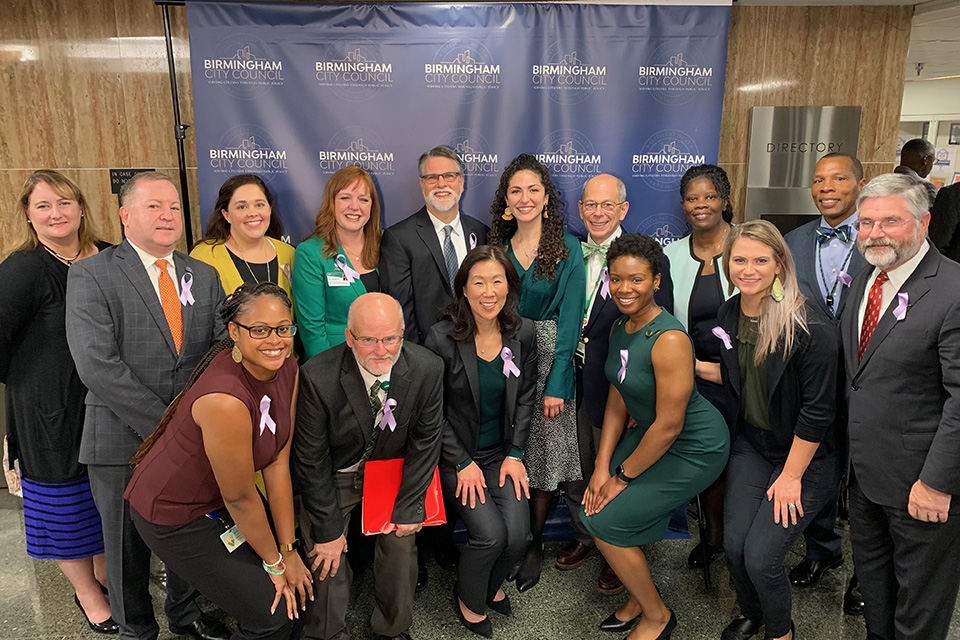 As the tobacco control and prevention coordinator, Okoro plays a major role in the educational piece of the new ordinance, which went into effect on December 1. "I work to educate the private facilities, especially restaurants, about what the health district ordinance means for them. Though we're still in the early stages, it's exciting stuff," she said.
In this work, Okoro communicates with a vast number of people. "People can make your job a little complicated," she said with a laugh. "But they truly are the best part. When you work with local coalitions and community agencies, you have to realize that each have their own purpose. It's my job to make sure we're all working together to serve the community as effectively and efficiently as we can—while also helping each other meet our individual goals."
Okoro credits Samford's School of Public Health for preparing her to excel in this work.
"At the core of Samford, they care about people, they want to help people," she said. "What I love about Samford is the one-on-one relationship you get with your professor. You need that guidance; you need a mentor. And they are willing to provide that for their students—every single one of them. No matter how big the class is, there is someone who is reaching out to help you. If you want that relationship—if you want to learn how to form those types of relationships—Samford is where you need to be."