Published on August 6, 2020 by Sarah Waller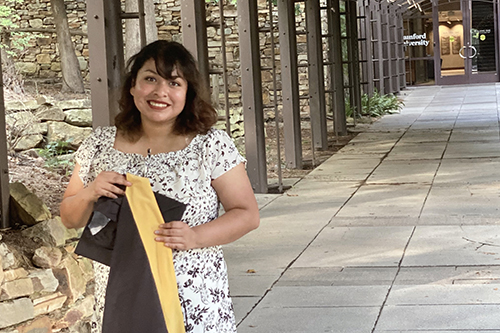 Sesaria Calderon '20 worked for almost two years as a family preservation worker with the Department of Human Resources in Blount County, Alabama, before starting Samford University's Master of Social Work. "I still remember every child that I had a case with. I still think about them. It was a really hard job, but it made me realize that I wanted to work with children," she said. "No child deserves what these children were going through. I knew that I wouldn't be able to save them, but I wanted to try—to stand by them and be their advocate."
Within that time, Calderon realized she wanted to take the next step in her education. "When I would go and visit these children, it was the one-on-one time with them that I really enjoyed," she said. "The thought was soon forming in my head: A career in counseling may be the right fit for me." 
Calderon enrolled in the School of Public Health's Master of Social Work program in 2019 as an advanced standing student since she already held a Bachelor of Social Work. With Samford's focus on clinical social work, she was able to learn different therapy interventions in the classroom and gain first-hand experience through her field placement, or internship.
When COVID-19 abruptly moved her course work online, Calderon admits the transition was hard. She was still expected to complete her assignments and field experience hours—just remotely. But she said the faculty made it so she and her cohort were able to finish strong. They even held a virtual celebration in May. "Each professor shared kind words about each graduate. That was really nice, and it helped make it feel like we had actually reached the end of the program."
With her degree in hand, Calderon admits she was nervous about finding a job in the midst of an ongoing pandemic. While she had a desire to work with a school system or nonprofit, she knew many organizations were struggling. But then, job offers started to come her way. "The only way I can explain it is God was opening doors for me," she said.
With multiple job offers on the table, she decided to accept a position as a therapist with Blount County Children's Center, a child advocacy center in central Alabama. "Essentially, when a child goes through something traumatic, or they disclose abuse or neglect, instead of making the child tell the story multiple times to multiple people, we bring an interdisciplinary team to our center. A child does a forensic interview on video, making it so he only tells the story once, and we offer the child therapy, free of charge," she said. 
For Calderon, her experience with DHR and her work throughout her master's program seems to have led her to this specific point. "I like to tell my friends, I may not be the smartest student in the classroom, but I feel like I'm the most dedicated," she said. "It wasn't easy for me to get to this point, but I kept telling myself: It will pay off. I was a little worried when the virus happened; I knew it was going to be hard to find a job. But the opportunities came, and I am so grateful."
She started in her position in mid-July, and she has been able to provide therapy to children in person while maintaining social distancing. "My work is not as interactive as it could be, but we are making it work. Plus, I don't think the younger kids would hang in there with me if we had to do therapy through a screen."
As Calderon reflects on the accomplishment of earning her Master of Social Work and finding a job so quickly, she makes a point to express her gratitude for her family. "I do all of this to bring honor to my family," she said. "I've always had a passion for learning, and I knew I wanted to attend college. But that itself was something my family didn't traditionally do."
"I was the first child of my parents to be born in the United States. My parents made a big sacrifice, deciding to leave Mexico and move to this country. They didn't know the language, but my parents had hope that it would bring good opportunities for their children," she said. "I hope that I can inspire my family and future generations—and even the Hispanic population itself. There are not many Hispanic people who work in mental health. My hope for the future—my dream—is to collaborate with other Hispanic people within this profession to bring about positive change."