In celebration of the 100th anniversary of nutrition education at Samford University
Friday, Sept. 21, 2018
8:30 a.m. to 3 p.m.
Pete Hanna Hospitality Room, Samford University
Topics will include: 
Nutrition and physical activity in Alabama

Interaction of diet and metabolism, health, and disease

Nutrition interventions for obesity and metabolic health
Impact of bioactive food compounds and functional foods on cardiometabolic diseases
Translating nutrition science into accurate and engaging communications for the public
Register Today
Cost
Registration costs $10, which includes lunch. Students can register for free.
Schedule
8:30–9:15 a.m. Breakfast and Welcome
9:15–10:15 a.m. "A Journey Through the Field of Nutrition and Dietetics," Linda G. Snetselaar, Ph.D., RDN, FAND, LD, professor and chair of the Department of Epidemiology at University of Iowa's School of Public Health
10:15–10:30 a.m. Break
10:30 a.m.–12 p.m.

Molly Killman, M.S., RD, LD
Barbara Gower, Ph.D.
Beth Kitchin, Ph.D., RDN

12–1:30 p.m. Lunch and Research Poster Session
1:30–2:50 p.m.

Katie Snider Novitski, M.D., M.P.H.
Kristi Crowe-White, Ph.D., RD
Katie Coate, Ph.D.

2:50–3 p.m. Concluding Remarks
Keynote Speaker
Linda Snetselaar, Ph.D., RDN, FAND, LD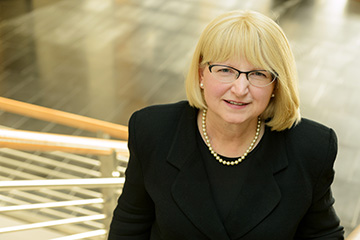 Linda Snetselaar is a professor in the Department of Epidemiology, UI Associate Provost of Outreach and Engagement, Editor-in-Chief of the Journal of the Academy of Nutrition and Dietetics, Endowed Chair of Preventive Nutrition Education, and Director of the Nutrition Center in The University of Iowa, College of Public Health. Through her many research, teaching, and service projects, she has helped to establish The University of Iowa as a leader in addressing important community-based health concerns, including childhood obesity and women's health. Snetselaar's research interests include the relationships between diet and cardiovascular disease, diabetes, cancer, and renal disease. 
Snetselaar completed a B.S. in Nutrition and Dietetics at Iowa State University and an M.S. degree in Nutrition in the UI Department of Internal Medicine in 1975. In 1983, she received a Ph.D. in Health Sciences Education from the UI. 
She served as chair of the American Dietetic Association's (ADA) Council on Research from 1993-1996; during this time she also was a member of the ADA's board of directors and its Executive Committee. She has received numerous honors, including the Women's Health Initiative Achievement Award for her work in the Women's Health Initiative Study in 1996, the Outstanding Alumni Award from UI Hospitals and Clinics Dietetic Internship Program in 1999, and the College of Public Health Faculty Service Award in 2001. In 2006, she was honored with a Medallion Award from the Iowa Dietetic Association, received the College of Public Health Faculty Education Award in 2006, and in 2010 she was honored with an award for faculty achievement in community engagement from the College of Public Health Board of Advisors at The University of Iowa.  She received the national 2018 Medallion Award from the Academy of Nutrition and Dietetics in honor of her service to the field of nutrition and dietetics.  Dr. Snetselaar has served on numerous National Institutes of Health Study Section Panels and on Institute of Medicine, Food, and Nutrition Board Reviews.  She has over 160 peer reviewed publications and has written five nutrition text books.
Abstract Submission for Research Poster Session
Please submit your abstracts via email to Katie Coate at kcoate@samford.edu as a Microsoft Word file by Monday, Sept, 10, 2018. Abstracts should be a maximum of 500 words (Arial font, size 12).
Please include whether the presenter is an undergraduate student, graduate student or postdoctoral fellow.