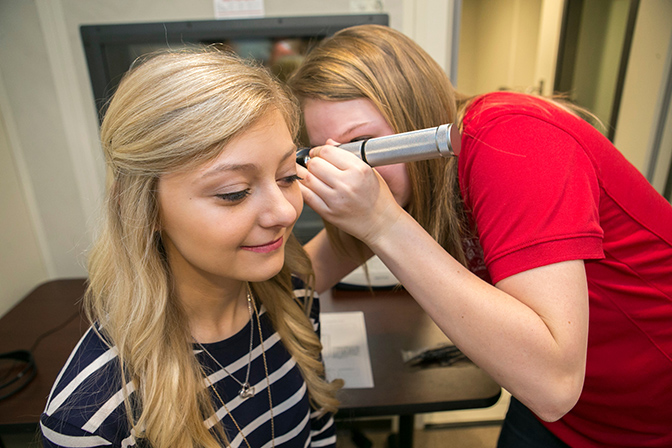 Helping people overcome speech and hearing disorders is a calling, offering those called to the profession years of fulfilling service that makes a difference in the lives of others. We prepare highly qualified speech language pathologists and audiologists through faith-based academic coursework and clinical placements designed to foster lifelong learning. We will help you reach your personal career goals, while helping you develop high moral and ethical competency so that you will be of service to others in your community and throughout the world.
In these fields, a graduate degree is essential. Our entire undergraduate program is designed to give you the educational foundation and practical experience you need in preparation for the world's leading graduate school programs.
Why Samford?
There are a number of reasons to consider studying communication sciences and disorders at Samford. Rigorous academics, a committed, passionate faculty, and extensive hands-on clinical experiences. Here, you'll also find:
Low student-to-teacher ratio in the classroom
Highly educated and experienced faculty who are readily available to you
An assigned departmental academic advisor, in addition to a health professions advisor
Educational and medical mission trip opportunities that fulfill service learning requirements
A curriculum that is updated as needed to reflect the ever-evolving trends and practices in the health care industry
Admission Requirements
Prospective students must apply for admission to Samford University at samford.edu/admission.
Program Specific Requirements:  
To progress in the undergraduate program, students must do the following:
Have a completed College of Health Sciences Health Form and Immunization Record updated annually on file
Submit negative results on drug screen and background check
Have a signed HIPAA statement on file
Maintain a cumulative GPA of 3.0 or above on all coursework.  
Students and applicants with disabilities who seek accommodations must make a request by contacting the Section 504/Disability Access and Accommodation Coordinator, 205-726-4078 or disability@samford.edu.
We cannot issue an I-20 for this program at this time.
Life in the Program
"Within Samford's department of Communication Sciences and Disorders, you will find faculty and staff who not only teach from a wide variety of rich clinical experiences, but who also care deeply about you as both a student and an individual. The field of speech pathology is very dynamic and constantly evolving which makes Samford's well-rounded approach to learning an excellent choice. I can confidently walk into the next phase of my education because of the preparation I received at Samford and I am so grateful for the time I spent in this major."
Anna Grace Dickson '23
Plan of Study