Published on September 23, 2019 by Sara Roman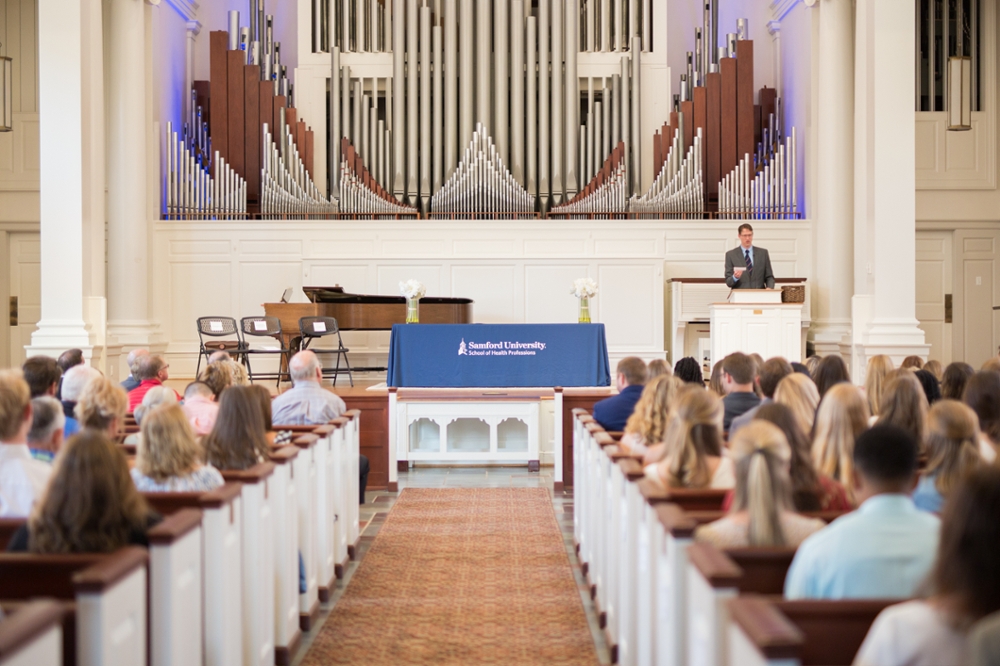 Samford University's School of Health Professions honored 99 first-year graduate students at its annual Commitment to Calling Ceremony on Sept. 4. Candidates from multiple programs were represented including those in the Doctor of Audiology,  Doctor of Physical Therapy,  Master of Athletic Training,  Master of Physician Assistant Studies and  Master of Sciences in speech language pathology programs.
During the ceremony, the students pledged to utilize the profession to which they are called to give compassionate service to others. They are guided by the school's theme verse 1 Peter 4:10 which reads, "Each of you should use whatever gift you have received to serve others."
"We host this ceremony because we want our students to be empowered to pursue God's calling on their lives," said Alan Jung, School of Health Professions dean. "They aren't just pursuing a degree, job or their dream career. They are being prepared to show God's love and compassion to every individual that they encounter and to utilize their chosen profession to make Him known."
During the ceremony, students had the opportunity to hear from Ashley Laird, who shared her family's story and experience working with multiple health care disciplines.
"God has placed multiple people on our health care journey that have made our walk a little easier and who have helped us carry the burdens that often come with having a special needs child," said Laird. "Throughout your careers each of you will be given opportunities to speak life and hope to a patient. I want to encourage you to seize that opportunity every time you have it because it really does make all the difference." 
At the conclusion of the ceremony, students recited the School of Health Professions pledge, vowing devotion to a lifetime of compassionate service to humankind. Students were presented with a pin to honor their commitment to their calling.
To watch the fall 2019 Commitment to Calling Ceremony, click here.