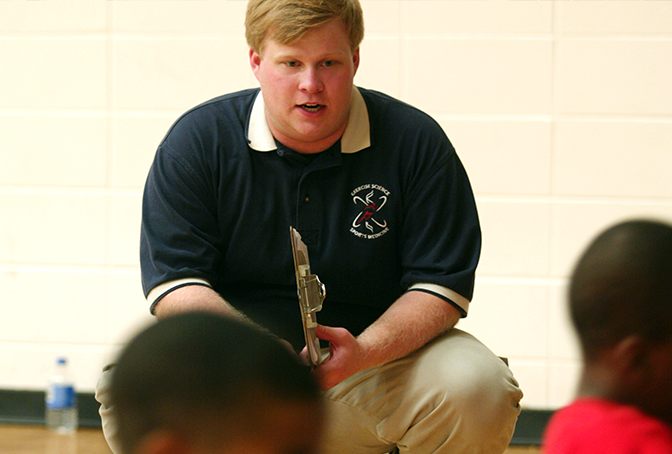 If your calling leads you to the world of sports, a degree in Sport Administration will prepare you for leadership at almost any level of the industry. But at Samford University, it's so much more than that. 
In addition to giving you the knowledge and experience you need to excel on the business side of sports, we see the degree as a kingdom calling—an opportunity to serve as a Gospel witness in the sports world. We prepare students for sport industry leadership positions in: intercollegiate athletic administration, professional sports, facility and event operations, marketing and public relations, law, interscholastic athletic administration, sport business and related fields. Every course is grounded in leadership skills such as punctuality, problem solving, professional speaking and intentionality, and the heartbeat of the program is to teach students how to use their leadership positions as platforms to share the Gospel with others.
Why Samford?
There are a number of excellent reasons to choose Samford University's School of Health Professions, including:
Low student-to-teacher ratio in the classroom
Highly educated and experienced faculty who are readily available to you
Participation in two different professional internships in a variety of sport industry experiences with valuable networking opportunities for future career pursuits
The opportunity to use your career as a way to share the Gospel
Admission Requirements
Prospective students must receive admission to Samford University and have a minimum GPA of 2.5 to declare the major.
Students and applicants with disabilities who seek accommodations must make a request by contacting the Section 504/Disability Access and Accommodation Coordinator, 205-726-4078 or disability@samford.edu.
Outcomes
Our graduates are trained proficiently in the necessary business and leadership skills of the sport industry to be effectively prepared – all for God's glory – to work in intercollegiate athletic administration, professional sport business settings and other industry specific environments that revolve around the production or promotion of sport. In addition, through market-driven coursework and rigorous academic environments, students will be prepared to enter into graduate programs revolving around sport administration or sport management coursework, including related Masters in Business Administration or law programs. 
Accreditations
Samford University is accredited by the Commission on Colleges of the Southern Association of Colleges and Schools.
Our Commitment
"What makes this program special is that we believe every profession is a calling by God and an opportunity for Christ-centered, Kingdom-focused ministry. Therefore, we prepare students for professional opportunities in leadership and business roles in the sport industry where they can share and celebrate God's grace and love in the finished work of Jesus, while being highly proficient and knowledgeable on how to effectively communicate with, lead and inspire others in the sporting environments of: intercollegiate athletic administration, professional sports, facility and event operations, law and sport business."
- Dr. Nathan Kirkpatrick
Life in the Program
"Spring of my senior year as a sport administration major, I interned with Bruno Event Management Team. I had a very positive experience and think it is extremely beneficial for students in this department to complete an internship prior to graduation. I learned a lot from working with Bruno, but it also showed me that this is the exact field I want to work in. I learned how to deal with difficult personalities in the business world, how to balance a demanding schedule, and more importantly, I learned about all the different factors that are involved when planning a sports event. I learned that in sport management, you have to work together as a "team" and rely on your co-workers to make an event happen. You also have to be adaptable, willing to go the extra mile and perform tasks that are not always in your job description. I learned a lot about how to market a sporting event and what it takes to manage one on-site. I would encourage any students looking to get involved with the sports world to check out Samford's sport administration program."
- Bethany Davis, Assistant Director, Tennessee Athletic Hospitality, class of 2013
Plan of Study