Moffett & Sanders nurses are continuously changing the world through their courageous and compassionate service to individuals, families and communities. Each year, Moffett & Sanders School of Nursing seeks to recognize outstanding alumni with alumni awards.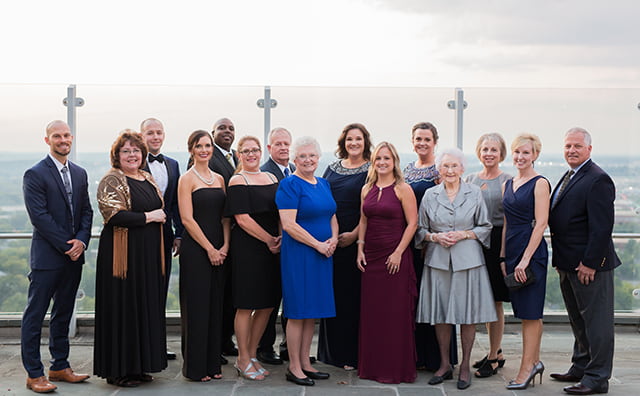 Courage to Care Award
The Courage to Care Award recognizes and honors Birmingham Baptist Hospital and Moffett & Sanders School of Nursing alumni who exemplify the courage to care, through their past or current practice as a registered nurse or advanced practice nurse.
Courage to Care Award Criteria
Any Birmingham Baptist Hospital or Moffett & Sanders School of Nursing alumnus whose practice exemplifies the Moffett Maxims for excellence in nursing practice and patient care delivery as presented by the following criteria:
Provides leadership that builds self confidence in everyone
Provides leadership that does not tolerate mediocrity and insensitivity
Demonstrates values through words and actions
Exemplifies compassion by taking action, even at the sacrifice of one's own comfort and convenience
Exemplifies servant leadership
Demonstrates responsibility for creating a caring environment, modeling the principle: "The patient first, the institution second, and self last."
2020 Courage to Care Gala
In the wake of the COVID-19 pandemic and in an effort to safeguard you and our Moffett & Sanders School of Nursing community, the 2020 Courage to Care Gala is tentative at this time.
For additional information, please contact:
Gena Sullivan
Moffett & Sanders School of Nursing
Samford University
800 Lakeshore Drive
Birmingham, Alabama 35229
Sponsors
Moffett & Sanders School of Nursing is grateful for our generous sponsors who have not only supported the event, but who continue to make an investment in Moffett & Sanders Nurses.
2019 Sponsors: 
Gold
John 3:16
Benefactor
The Carl A. Schaefer, Sr. Family
Patrons
Brookwood Baptist Health
Children's of  Alabama
Dr. Jill Cunningham
Dr. Sharron P. Schlosser and Mr. Larry Schlosser
McDaniel Family Trust
Mr. and Mrs.  Robert D. Kicker
St. Vincent's Health System
Sylvia Rayfield & Associates, Inc.
UAB Callahan Eye Hospital
UAB Medicine
Living Legacy Award
The Living Legacy Award was established to recognize those special individuals who have made a significant impact on humanity and perpetuated Mrs. Moffett's legacy through their contributions to the mental, physical and spiritual well-being of others.
Living Legacy Award Criteria
Any Birmingham Baptist Hospital or Moffett & Sanders School of Nursing alumnus who has made a significant impact on humanity based on the following criteria:
Demonstrates a significant contribution to the mental, physical or spiritual well-being of others
Demonstrates Moffett & Sanders School of Nursing's key values of academic excellence, service, caring, and compassion through not only words but also actions
Exhibits professionalism and leadership through current and/or previous endeavors
Inspires innovation and/or influences positive change in the world around them
The 2020 Living Legacy nomination is closed
Past Living Legacy Recipients
2019
The Class of 1959
Kathleen Baber
Sara Bell
Juanita Bennett*
Linda Bety
Linda Betz*
Mitzi Bobo
Frances Bryan
Bobbie Clark
Dorothea Claunch
Eula Mae Connell
Jeanette Corley
Joann Dunn
Martha Eisenberg
Geraldine Fluker
Barbara Frix
Anita Gray
Mildred Greene
Barbara Griffis
Joann Gunnoe*
Shirley Hendrix
Phyllis Kenady*
Jerrie Kitchings
Sharon Kleeschulte
Jewell Matthews*
Gail Mitchell*
Sue Morrison
Sylvia Rayfield
DeLarris Reeves
Stella Rogers
Ethel Saraphie*
Patsy Schmith
Betty Shahine
Martha Slate
Josephine Snider
Mary Steele
Linda Stewart*
Judy Taunton
Roma Taunton
Margaret Townsend*
Joyce Varnes*
Beverly Waldrop*
Sylvia Weis
Marsha White
Barbara Whitman
Peggy Willingham*
Theresa Joan Youngblood
*Deceased
2018
Sharron P. Schlosser, Ph.D., RN, CNE, COI, ANEF, former Professor of Nursing, Ida Moffett School of Nursing
2017
Wanda Marquardt, CRNA, former Chief Nurse Anesthetist at Carraway Methodist, Birmingham, Alabama
2016
Frances Dobynes Ford, Executive Director of Sowing Seeds of Hope
2015
Brandon Brock, Chief Executive Officer, Brock and Brock Enterprises, Dallas, Texas
2014
Sondra Tatum McGinnis, Director of Operations for Physicians Services, Erlanger Health System, Chattanooga, Tennessee
2013
Frances Mellett Robinson, Cancer Navigator, San Juan Regional Medical Center
90th Anniversary Living Legacy Award Recipients, 2012
Brandon L. Bailey, Case Manager, National Capitol Region Wounded Warrior Regiment
Sandi Begley, Lt. Colonel in U.S. Army, Retired
Karen K. Belcher, Certified Pediatric Nurse, Clinical Supervisor, Children's of Alabama
Carolyn B. Chalkley, Adjunct Clinical Instructor, UAB School of Nursing
Sherri Chatman, Palliative Care Nurse Practitioner, Alacare Home Health and Hospice
Patricia J. Cleveland, Retired Faculty, UAB School of Nursing
Cristy Marie Daffron, Parish Nurse, Nursing Program Coord., Jefferson State Community College, Pell City, Alabama
John Westly Derrick, Pediatric Nurse, Member Care Program, Cooperative Baptist Fellowship
Deborah Dutton Duke, Former Congregational Health Program Director, Ida Moffett School of Nursing
Greg Eagerton, Chief Nursing Officer, Durham VA Medical Center
Denise Elliott, Consultant
Heather Fields, CRNA, Partner, Riverview Anesthesia Associates
Juanzetta S. Flowers, Associate Professor, Emerita, UAB School of Nursing
Sandi Gordon, Director of Pleasant Hill Community Mission, Springville, Alabama
Kerry Gossett, Director of Clinical Anesthesia, St. Vincent's Birmingham
Lindsey M. Harris, Charge Nurse, UAB Hospital 
Mary Sue Morrison Heyer, Retired, CRNA 
Cecelia Lynn Edmunds Holden, Associate Dean, King College School of Nursing, Bristol, Tennessee 
Ginger Howell, Retired, Family Nurse Practitioner 
Christopher P. Hulin, Dean/Program Director, Middle Tennessee School of Anesthesia
Bettie Sue Phillips Jackson, Retired, RN
Jessica Eva Johnson, Family Nurse Practitioner, Christ Community Health Services, Memphis, Tennessee
Frances Johnston Retired, Consultant and Nurse Educator
Jo Dobson Kicker, Retired, Nursing Administrator and Educator
Paul Lawrence, Team Strategy Leader, International Mission Board 
Elaine Epperson, Lay Hospice Nurse, New Beacon Hospice
Wanda S. Lee, Executive Director, WMU
Lori Lioce, Clinical Assistant Professor, UAH School of Nursing
Marcia A. Lowe, Advanced Nursing Coordinator, UAB Hospital 
Sidney J. Martin, Retired
Marie Mompoint, Palliative Care Nurse Manager, Atlanta VA Medical Center 
Barbara Money, Assistant Professor, Emerita, Ida Moffett School of Nursing
Deborah A. Moss, Minister of Health and Wellness, Dawson Memorial Baptist Church
Lee Nail, Vice President of Provider Services, Accountability Health Care Inc.
Stuart Pope, Assistant Professor, Auburn University School of Nursing 
Heather Rankin, Senior CRNA, Children's of Alabama 
Carol Jefferson Ratcliffe, Nurse Co-Leader, Alabama Health Action Coalition 
Sylvia Wright Rayfield, Chairwoman of the Board, Sylvia Rayfield and Associates, Inc. 
Bhrata Reddy, Consultant
Janet Dixon Reeves, Family Nurse Practitioner, Naval Hospital, Beaufort, South Carolina
William F. Reid, President, Ophthalmology Anesthesia Management 
Frances Mellett Robinson, RN, Cancer Navigator, San Juan Regional Medical Center
Josephine Snider, Chair, Dept. of Health Care Environments and Systems, University of Florida 
Robin Denise Spann, Instructor, Mississippi University for Women, Columbus, Mississippi
Gayl-Julie Spence, Nurse Practitioner, Growing Up Pediatrics, Birmingham, Alabama
Teresa Stanford, Hospitalist Nurse Practitioner, Gilmore Memorial Regional Medical Center
Susan B. Stillwell, Associate Dean for Graduate Nursing Programs, University of Portland, Portland, Oregon
Kimberly Swaisland, Family Nurse Practitioner
Roma Lee Taunton, Professor Emerita
Connie Yarbro, Editor, Seminars in Oncology Nursing 
Regina Yarbrough, former Chief Nursing Officer, Princeton Baptist Medical Center
Courage to Care Nomination Form