Academics
If nursing is your calling, you will find everything you need at the Ida Moffett School of Nursing to prepare yourself to deliver skilled, compassionate care in almost any clinical setting. We offer a number of degrees, both undergraduate and graduate, to tailor your education to your specific calling. Everything we do is in the context of Samford University, a distinctive Christian university built on the foundations of faith and service.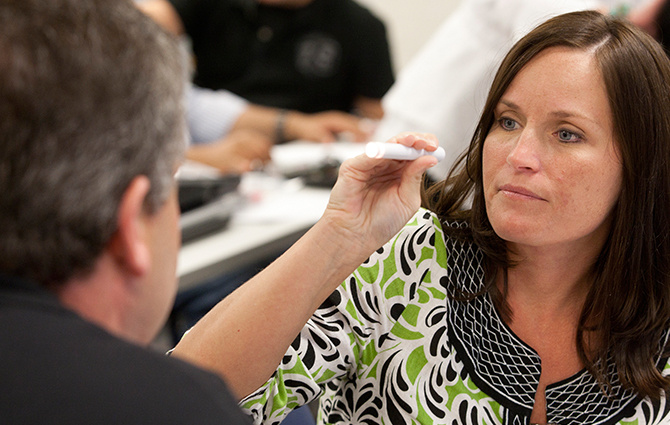 Degree Programs
At the undergraduate level we offer three degree programs: a traditional Bachelor of Science in Nursing, as well as two options for students who've previously earned a bachelor's degree in another field. For graduate students, we offer both the Master of Science in Nursing (with a variety of program options) and a Doctor of Nursing Practice, the terminal degree in the nursing field. Wherever you feel called, a degree from the Ida Moffett School of Nursing prepares you to thrive.
Clinical Work
We believe that the best education is a combination of study and applied practice. You will begin clinical work in your first days. As an undergraduate student, you will work in one of the most advanced simulation labs in the world; you'll also work in a variety of clinical settings with nurses who are both skilled professionals and motivated teachers. Because we are in Birmingham, one of the leading health care centers in the world, we can provide you countless clinical opportunities in almost every specialty.
We believe that clinical work is equally important to graduate students. Whether you study online or on campus, we will tailor your experiences to give you the opportunities you need to reach your goals. We have an extended network of clinical partners, so no matter where you are, we can organize experiences appropriate to your studies. It's a defining trait of the Ida Moffett School of Nursing.
Nursing is more than a career. It is a calling that will challenge you to do more and give more than you ever imagined. But the rewards for such a life of caring and service are great.