Published on August 8, 2017 by Sarah Waller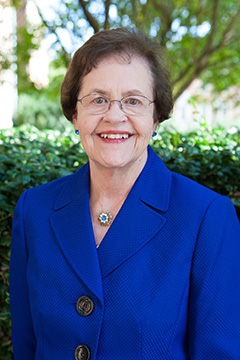 Professor and alumna Sharron Schlosser retired this May after teaching with Samford University's Ida Moffett School of Nursing for 42 years. Before she left, she sat down and answered a few of our questions, reflecting on her experience as nurse and nurse educator.
What led you to be a nurse?
I've always been attracted to nursing because it is an art and a science. In nursing, we don't do things just because that's how it's always been done… or because that's what we've been told to do. Nursing is a science with evidence-based research, yet at the same time, it is not a cold science. Nursing is a profession instilled with care and compassion.
Often I hear it was a personal experience that called someone to nursing. That's not the way it was for me. When I was a little girl, I went back and forth—one day I wanted to be a teacher, and another, I was going to be a nurse. The thought of combining them to do both never crossed my mind until after I graduated from nursing school.
Mrs. Moffett was director at Birmingham Baptist Hospital when I started in the diploma program. She made it possible for me to come to school. I got a scholarship that covered full tuition, room and board, and I received the scholarship the very week I had to submit my letter of intent. I don't know how I would have paid for the program otherwise. Mrs. Moffett was such a visionary and so far ahead of her time.
What do you love about teaching? 
My favorite part about teaching is seeing our students grow and develop. It's amazing to witness the growth of a student—from the first day to the last. It is so rewarding to see them go forth and know they will grow and develop into the careers that lie ahead of them.
What advice would you share to our new nursing students?
Don't see a patient as just a patient. See him or her as a member of someone's family. The dynamics of a situation are always greater than the individual. Oftentimes, whatever is happening is a big deal for the entire family. To paraphrase Mrs. Moffett—we must really care for our patients. No matter how involved, how frustrating, how complex or how challenging a day might be—the bottom line is we are still there to care for that person.
To quote Mrs. Moffett again, "Caring is the shining thread of gold that holds together the tapestry of life." 
Isn't that what we see in our lives every day? When someone is facing something difficult, we pull together and demonstrate care. It holds together our lives.
How do you see Ida Moffett School of Nursing growing toward the future?
Certainly, the school has worked to stay ahead of health care trends. This dates back the school's foundation. Mrs. Moffett led the program to be the first accredited nursing program in the state. (It is always wise to be proactive and look at that.) Over the years, change will happen. It's a normal part of research and evolution. It can just be difficult for us who have been around a long time. I rejoice that this school has stood the test of time for 95 years, and I pray that its mission and its focus of caring is still holding strong 90-something years from now.