Published on March 5, 2018 by Katie Stripling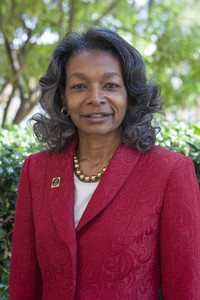 Samford nursing professor Jennifer Coleman has impacted the lives of Samford students for decades. Now she's sharing her expertise and gift of mentorship with future nurses at Fairfield Elementary School as a part of its Exploratory Nursing Program. 
Ten students participated in the academy. "These children were giving out information that we give our college students . . . the future of health care is in good hands; I see some health care leaders, some CEOs of health care organizations."
Coleman, who was joined by fellow Birmingham Black Nurses Association members Deborah Zimmerman and Martha Dawson, visited the school when the program began in December, and said students were very hands-on.
"We talked about nursing, health care, the importance of activity, exercise, nutrition, we taught them CPR [cardiopulmonary resuscitation]," Coleman said. "One of our nurses let them all stick her finger to check her blood glucose. They asked questions, and we realized how amazing they were. They were asking such high-level questions . . . they surpassed our expectations. They're so smart, inquisitive."
Students were also taught how to take blood pressure, listen to heart rates, and check blood sugar levels for diabetes. They presented information about hypertension, health and wellness, how to test for the flu, how to properly wash hands and how to perform CPR on adults and infants.
On February 27 students received pins and certifications for their work in the academy. 
This is an excerpt from an article in The Birmingham Times. View the full article here.