Published on February 28, 2020 by Sarah Waller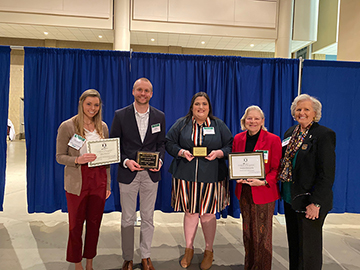 Students and faculty in Samford University's Department of Nutrition and Dietetics were honored at the annual Alabama Dietetic Association Awards Luncheon, Feb. 27.
The department took home several awards recognizing individual and collective achievements. 
Chandler Winstead '19 was honored with Outstanding Dietetic Intern of the Year. After completing Samford's dietetic internship program in December and earning her Master of Science in Nutrition, Winstead has entered the workforce, serving as clinical dietitian at Northeast Georgia Medical Center in Athens, Georgia. 
Assistant professor Keith Pearson was recognized as the Young Dietitian of the Year. Pearson joined Samford's faculty in 2018, after working as a clinical dietitian at the Birmingham VA Medical Center. Today, he teaches several undergraduate courses in nutrition and dietetics, and oversees the department's online Master of Science in Nutrition program.
In addition, Eliza Petersen, a current dietetic intern, was this year's recipient of the Wood Fruitticher Grocery Co. Scholarship, and Mary Kate Brown, a senior nutrition and dietetics major, was named the Outstanding Senior at Samford University.
Finally, Samford's chapter of the Student Dietetic Association was named the Outstanding Student Dietetic Association award. Brown, the chapter's president, accepted the award on behalf of more 60 students in the organization.
These awards reflect the department's commitment to excellence in scholarship, research and practice. This history of excellence in nutrition and dietetics spans more than 100 years at Samford—with the first nutrition course offered in 1918.
"We are incredibly proud of the students and faculty who were honored this week," said Suresh Mathews, professor and chair of the Department of Nutrition and Dietetics. "These awards are just a glimpse of the outstanding work being accomplished within our department."