Published on January 8, 2020 by Sarah Waller  
Samford University's School of Public Health recognized the 2020 cohort of dietetic interns during the school's annual White Coat ceremony Jan. 7 at the College of Health Sciences.
The cohort of 20 interns has already completed the first four months of the 16-month, post-baccalaureate program, which fulfills the requirements from the Commission on Dietetic Registration to become eligible for the registered dietitian exam. 
The ceremony included a presentation of a white coat to each intern, representing the beginning of the year of clinical rotations.
"Some programs award white coats at the end of the internship as a symbol of going out into the workplace as a medical professional," said Amy Cameron, instructor and director of the dietetic internship. "But you are putting on your white coats today in this ceremony  that emphasizes our confidence in your ability to become a compassionate and knowledgeable dietitian."
Julianna Bailey, a registered dietitian and quality improvement coordinator at the UAB Gregory Fleming James Cystic Fibrosis Center, served as the ceremony's keynote speaker.
"It is an exciting time to be entering this profession," she said. "Technology is changing the way that we practice dietetics and the way we communicate with our clients, each other and the public. We also have the unique opportunity to leverage this new technology and big data to solidify ourselves as the nutrition and dietetics experts."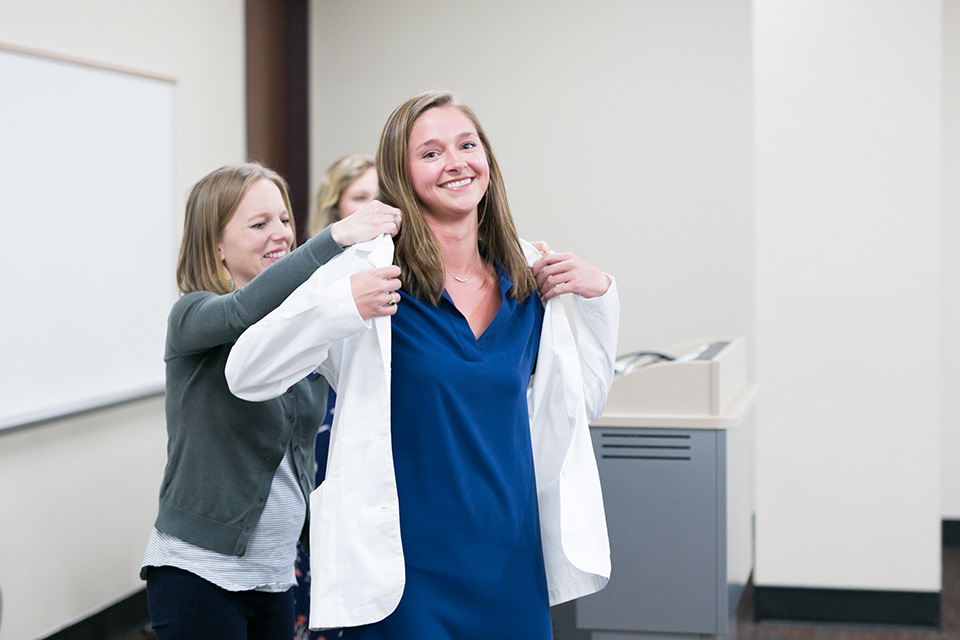 Bailey shared about her own experience as a dietetic intern and the evolution of her career. "I am convinced that everyone who enters this profession has the skills to be a leader," she said. "Here's why. Each of you are natural problem solvers; you are solutions-oriented."
She challenged the dietetic interns to embrace every opportunity in the next year. "You'll come away from this internship with a mix of clinical and management skills, with a foundation of community and public health. And this skill set is valuable," Bailey said. 
Throughout the next year, each dietetic intern will complete six supervised practice rotations in areas that include food service systems management, community nutrition, medical nutrition therapy, child nutrition and lifestyle management. In addition, several dietetic interns choose to complete a master's degree—either a Master of Science in Nutrition, Master of Public Health or Master of Healthcare Administration—at the same time.