The student-managed Bulldog Investment Fund teaches students the intricate art of investment management. By working in teams that represent various market sectors, students confront real market issues, discover and analyze real stocks, and invest real dollars. As fund managers, they make regular presentations to members of the Samford University Board of Trustees' Investment Committee.
Bulldog Fund managers have the opportunity to participate in community outreach projects that allow them to teach others about investments, hear from industry professionals who provide an outlook on the current economy, and travel to local and national conferences where they are able to engage with top economic strategists and investment professionals.
Undergraduate and graduate students are accepted to the Bulldog Fund by an application and interview process.

Stock Summaries
The Bulldog Investment Fund is an educational enterprise for its managers. Nothing herein constitutes investment advice.
Portfolio Management Room
The state-of-the-art Stifel/Merchant Capital Portfolio Management Room features 12 Bloomberg terminals that enable students to have access to comprehensive research capabilities and financial data worldwide. Screens inside the room display information on global financial markets such as stocks, indices, bonds, economic data, commodities and currencies.
Students using the room are able to present their analysis to classmates and industry leaders in a Wall Street-type setting. The ticker outside the portfolio room is programmed to rotate updated NASDAQ or NYSE data 24 hours a day.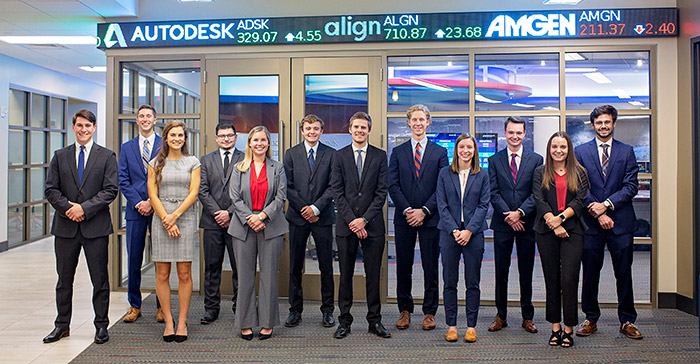 Sectors
Each semester, Bulldog Fund members manage funds in various market sectors. Bulldog Fund sectors include:
Consumer Staples
Also known as consumer defensive, the consumer staples sector includes companies that provide goods or services that consumers use daily such as food, beverages, personal products and household products.
Communication Services
Companies in the communication services sector facilitate communication or provide access to entertainment content and other information through various types of media.
Consumer Discretionary
Also known as consumer cyclicals, the companies in the consumer discretionary sector manufacture goods or provide services that consumer may desire but do not necessarily need.
Energy
The energy sector consists of companies involved in the exploration, production or management of energy resources such as oil and gas, as well as companies that service these industries.
Financials
Companies in the financials sector are engaged in businesses such as banking and brokerage, mortgage finance and insurance. For the Bulldog Fund, real estate also falls into this sector.
Health Care
The health care sector consists of stocks of companies involved in a range of health-related industries, including but not limited to pharmaceutical producers, medical devices and health care service providers.
Industrials
The industrials sector includes companies that manufacture and distribute capital goods in support of industries such as aerospace and defense, construction and engineering, and electrical equipment and heavy machinery.
Information Technology
The information technology sector is comprised of companies that offer goods and services, including hardware, software, semiconductors and consulting services.
Materials
The materials sector consists of companies that are engaged in the manufacturing or processing of materials such as chemicals and plastics or paper and packaging, or the extraction of metals and minerals.
Utilities
The utilities sector includes companies that engage in the production and delivery of electric power, natural gas, water, and other utility services, such as steam and cooled air. 
Commodities
Commodities, its own market, trades in raw or primary products such as gold, silver, oil, gas, wheat and more.
History
Launched in spring 2008, the Bulldog Investment Fund consists of one faculty adviser, one co-facilitator and a group of students, the fund managers. The goal of the investment fund is to maximize the long-term rate of return consistent with prudent risk limits. The fund's objectives are: to deliver experiential education in securities analysis and portfolio management and to generate an investment return (capital gains and income) that consistently exceeds the benchmark's total return.
In a remarkably difficult investing environment, one that has challenged the most experienced fund managers, it is impressive that throughout this time, student managers have outperformed 94% of the nation's professional fund managers. In the past, the fund has outperformed the S&P 500 by 13 percentage points, which translates to a roughly $220,000 advantage to Samford. This impressive performance convinced Samford's Board of Trustees to add $700,000 to the Fund shortly after its inception bringing the total under management to more than $1.9 million. The Bulldog Investment Fund is now the largest student-managed fund in Alabama, and one of the top funds in the southeast, at more than $3.5 million.
Alumni of the Bulldog Investment Fund have gone on to careers as revenue analysts, development directors, and sales representatives with companies ranging from the American Cancer Society, to BBVA Compass Bank, to the U.S. Armed Services.
Bulldog Investment Fund Bylaws