Samford University's Brock Scholars program empowers high-achieving business students to enhance and customize their education. The innovative program, designed for individuals whose goals call for curriculum different from a traditional business major, is fully equipped to prepare students for their career aspirations.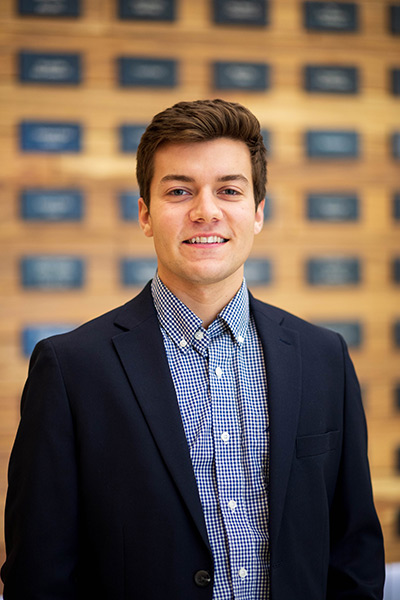 Brock Scholars exposed me to challenging work and provided me avenues to achieve my goals. In particular, the access I was given to faculty and other resources enabled me to learn about business philosophy and economics in a way that would not be possible without the program. Having been a part of Brock Scholars will greatly benefit my law school experience and career.Sam Katulich '21
Scalia Scholar at George Mason University Antonin Scalia Law School
Application Requirements
Brock Scholars are selected annually through a rigorous application process in September of their sophomore year. Application requirements include: 
Declared major in Brock School of Business
GPA: 3.7; 3.5 for University Fellows
Essay
Faculty Recommendation  
Rationale
The Brock Scholars Program was originally created to serve University Fellows who choose to pursue an academic major in Brock School of Business. In 2014, the program expanded to all students. The program aims to enrich the academic pursuits of business students, which is demonstrated in the internship requirements, the Oxbridge Tutorials, and the senior research thesis. While all degrees offered by Brock School of Business offer great training and preparation, the Brock Scholars program extends that.
Personalized Major and Course of Study
Personalized Major 
The Brock Scholars major is an imaginative, demanding and competitive program of study. Through this unique, hands-on program, students are given the flexibility to create their own curriculum,  participate in international travel, and complete their own research with one-on-one faculty mentorship. Oxbridge-style tutorials allow students to meet with faculty in small groups to discuss complex topics and students will work closely with their mentor to complete their senior research thesis. 
Brock Scholars will complete a core of business courses combined with courses from across the university to craft their personalized curricular experience. Some students choose to specialize further in a particular field of business, such as accounting, economics or marketing. Others choose to merge their business foundation with a concentration in another area, such as religion, psychology, sociology or health care administration courses.
Sampling of Brock Scholars Majors
Arts Administration
Accounting and Sports Marketing
Finance, Economics, and Policy
Finance and Health Care Administration
Economics, Politics, and Social Entrepreneurship
Management and Worship (voice)
Course of Study
Brock Scholars design their own degree in conjunction with their faculty committee (three faculty, one may come from outside Brock School of Business), who will approve their entire program of study. The program consists of the following coursework:
Required Business Courses (22 Credits)
BSBB 430- Brock Scholars Seminar (3 Credits)
BSBB 201- Brock Scholars Internship (3 Credits)
BSBB 302 (2 times) - Oxbridge Tutorial (1 Credit Each)
BSBB 301- Summer Fellowship (4 Credits)
BSBB 410- Senior Research Project I (2 Credits)
BSBB 420- Senior Research Project II (2 Credits)
Core Business Coursework (30 Credits):
ACCT 211, ACCT 212, BUSA 100, BUSA 360, DATA 200, DATA 201, DATA 301, DATA 401, ECON 201, ECON 202, FINC 321, MNGT 303, MARK 311, MNGT 342  and MNGT 481
NOTE: Any of these courses can be replaced/substituted with related business coursework applicable to the student's chosen course of study upon approval from the appropriate department chair and the student's faculty committee).
Additional Major Courses/Electives
The major allows the flexibility for academic coursework to come from other disciplines outside of the Brock School of Business.
To learn more about the Brock Scholars program, contact the program coordinator, Sara Helms McCarty at smccarty@samford.edu or by phone at 205-726-4110.
Goals and Objectives
Goals and objectives of the Brock Scholars programs include developing effective communication skills, instilling a sense of corporate and social responsibility in today's work place, enhancing quantitative literacy and discipline-specific knowledge, while placing an emphasis on teamwork and virtue development. 

Financial Support
Brock Scholars begin their career early with a subsidized internship during their sophomore year. The Brock Scholars program provides a $1,500 stipend for each Scholar to intern at a local for-profit or nonprofit business or government agency. The position matches students' curricular interests and provides academic credit. There is an additional stipend for the fellowship completed between the junior and senior year. Last, Brock Scholars have access to enrichment funds each academic year, which help subsidize enriching opportunities related to the studies, such as travel to and attendance at conferences and symposia.
Experience Outside the Classroom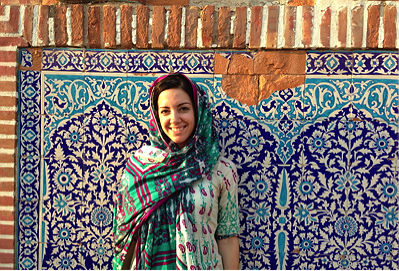 Caroline Noland '12 spent two years in Pakistan after finishing her Samford degree. She then graduated from the London School of Economics. 
The Brock Scholars program provides incredible experiential learning opportunities outside the classroom through internships and fellowships.  Internships allow scholars to begin their professional experience early and prepares them for a fellowship after their junior year.  The fellowship places scholars in organizations all over the world.  
Fellowships are tailored to the Scholar's specific career aspirations. For example, both Kayleigh Hudson '18 and Camilla Lemons '22 were placed with Compassion International's home office in Colorado Springs, Colorado. Caroline Noland '12 was placed with the global non-governmental organization Food for the Hungry in their Washington, D.C., office. Jordan Holland '16 was placed with the Federal Reserve Board of Governors in Washington, D.C. Rachel Fox Smothermon '16 was placed with Akila Institute in Kigali, Rwanda.
Recent Internship Placements
Regions Bank
Public Affairs Research Council of Alabama
Alabama Sports Hall of Fame
MPower
Alabama Symphony Orchestra
Innovation Depot
Work of Worth
Christ Health Center
Christian Service Mission
Recent Fellowship Placements
Episcopal Archdiocese of Rwanda
South Africa Business Training for Agricultural Workers
Compassion International
Food for the Hungry
American Enterprise Institute