The Brock School of Business pioneered the Brock Scholars program in 2009 to empower high-achieving business students to enhance and customize their education. This innovative program allows students to design their own curriculum, work closely with faculty, gain practical business experience, and receive additional funding. The program is designed for students whose academic goals and career aspirations call for a curriculum different from the six traditional majors offered. The Brock Scholars Program endeavors to fully equip students to achieve their academic and career goals.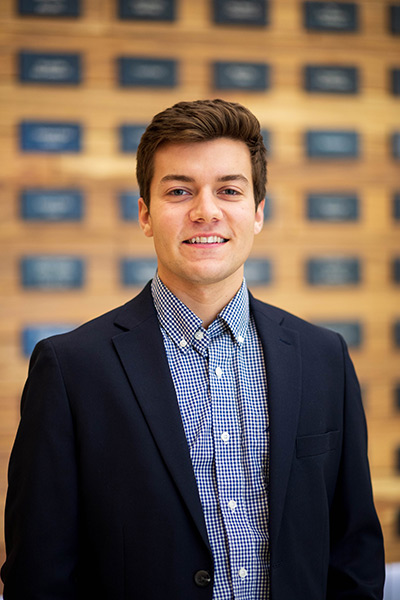 Brock Scholars was very important in exposing me to challenging work and providing me avenues to achieve my goals. In particular, the access I was given to faculty and other resources enabled me to learn about business philosophy and economics in a way that would not be possible without the program. I believe having been a part of the Brock Scholars program will greatly benefit my law school experience and career.Sam Katulich '21
Scalia Scholar at George Mason University Antonin Scalia Law School
Application Requirements
Declared major in Brock School of Business
GPA: 3.5 (Fellows); 3.7 (non-Fellows)
Essay
Faculty Recommendation: non-Fellows
Core Elements
Personalized Major
Students combine business and non-business courses to achieve curricular goals
Financial Support
Provided each academic year to fund enriching activities
Stipends for internship and fellowship
Faculty Mentors
Oxbridge-style tutorials allow students to meet with faculty in small groups to discuss complex topics
Senior research projects lead student to work closely with a faculty member
Experience Outside the Classroom
Internships allow students to work with local companies in their field of interest
Fellowships allow students to work with organizations all over the world and gather ideas for the senior thesis
Rationale
The Brock Scholars Program was created to serve University Fellows who choose to pursue an academic major in the Brock School of Business.
The University Fellows Program, the University's new honors program, was initiated in 2008. Whether a student explores justice with Plato, grace with Augustine, motion with Galileo or economics with Smith, the University Fellows Program is intended to challenge students to think deeply about what they believe and why. In addition, the program believes that putting knowledge into right action requires wisdom and, to that end, the program is committed to understanding how the classical and Christian virtues are essential to the cultivation of responsible citizenship.
Brock Scholars Major
The Brock Scholars major is an imaginative, demanding and competitive program of study designed for University Fellows who desire to major in business. Brock Scholars are selected annually through a rigorous application process in September of the sophomore year. The program allows students the flexibility to create their own unique curriculum, coupled with international travel, student research, hands-on experience through internships and a high degree of faculty involvement.
Sampling of Brock Scholars Majors
Arts Administration
Accounting and Sports Marketing
Finance, Economics, and Policy
Economics, Politics, and Social Entrepreneurship
Goals and Objectives
Effective Communication(3); Corporate and Social Responsibility (3); Teamwork(3); Quantitative Literacy (3); Discipline-Specific Knowledge (3); and Virtue Development (3).
Course of Study
Brock Scholars design their own degree program in conjunction with their faculty committee (three faculty, one may come from outside the Brock School of Business), who will approve their entire program of study. The program consists of the following coursework:
Required Business Courses (22 Credits)
BUSA 100, ACCT 211
BSBB 430- Brock Scholars Seminar (3 Credits)
BSBB 201- Brock Scholars Internship (3 Credits)
BSBB 302 (2 times) - Oxbridge Tutorial (1 Credit Each)
BSBB 301- Summer Fellowship (4 Credits)
BSBB 410- Senior Research Project I (2 Credits)
BSBB 420- Senior Research Project II (2 Credits)
Core Business Coursework (30 Credits):
ACCT 212, ECON 201, ECON 202, BUSA 231, MNGT 303, MARK 311, FINC 321, MNGT 342, BUSA 360 and MNGT 481
NOTE: Any of these courses can be replaced/substituted with related business coursework applicable to the student's chosen course of study upon approval from the appropriate department chair and the student's faculty committee).
Additional Major Courses/Electives
The major allows the flexibility for academic coursework to come from other disciplines outside of the Brock School of Business.
Your curriculum chair, a close advisor and mentor during your time in the Brock School, helps you coordinate these elements to craft the optimal undergraduate business education. To learn more about the Brock Scholars Program, contact the program coordinator, Dr. Sara Helms at shelms1@samford.edu or by phone at (205) 726-4110.
Personalized Major
Brock Scholars have the ability to create their own unique curriculum. Working closely with faculty in the Brock School of Business and in line with the student's academic goals and career aspirations, Brock Scholars complete a core of business courses combined with courses from across the university to craft a personalized curricular experience.
Some students choose to specialize further in a particular field of business, such as accounting, economics, or marketing. Others choose to merge their business foundation with a concentration in another area, such as religion or family studies courses.
Financial Support
Brock Scholars begin their career early with a subsidized internship during their sophomore year. The Brock Scholars Program provides a $1,500 stipend for each Scholar to intern at a socially mission-driven business. The position matches students' curricular interests and provides academic credit.
The internship allows Scholars to begin their professional experience early and prepares them for an international fellowship after their junior year.
Recent Internship Placements
Regions Bank
Public Affairs Research Council of AL
AL Sports Hall of Fame
MPower
Alabama Symphony Orchestra
Innovation Depot
Work of Worth
Experience Outside the Classroom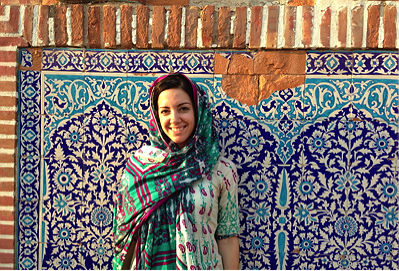 Caroline Noland '12 spent two years in Pakistan after finishing her Samford degree. She then graduated from the London School of Economics. 
The Brock Scholars Fellowship provides additional experiential learning. With a stipend from the program, Scholars are place in organizations all over the world in a fellowship experience.
Fellowships are tailored to the Scholar's specific career aspirations. For example, Kley Sippel '12, in line with his economic development interests, was placed in South Africa to work with the enterprise incubator Living Way. Caroline Noland '12 was placed with the global NGO Food for the Hungry in their Washington, D.C., office.
Recent Fellowship Placements
Episcopal Archdiocese of Rwanda
South Africa Business Training for Agricultural Workers
Compassion International
Food for the Hungry
American Ballet