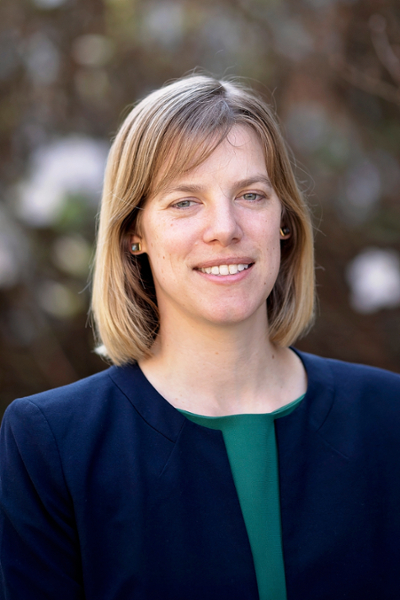 Associate Professor of Quantitative Analysis and Economics
Brock School of Business
Department of Economics, Finance and Quantitative Analysis
341 Cooney Hall
Joy Buchanan is an associate professor of quantitative analysis and economics in Samford University's Brock School of Business. She teaches data analytics and economics courses. She has published articles in peer-reviewed journals including Labour Economics and Experimental Economics. Her research is in behavioral economics with a focus on applying experimental methods to issues in the labor market. Her work has been supported by the National Science Foundation and other organizations.
Degrees and Certifications
Ph.D., George Mason University, Economics
M.S., Chapman University, Economic System Design
B.A., Chapman University, Economics and Screenwriting
Publications
"How dictators use information about recipients," with Laura Razzolini (accepted at the Journal of Behavioral Finance). Blog summary
"Willingness to be Paid: Who Trains for Tech Jobs?" (2022), Labour Economics, Vol 79, 102267. (as featured in Politico Morning Tech)
"Other people's money: preferences for equality in groups," (2022) with Gavin Roberts, European Journal of Political Economy, Vol. 73. Blog summary
"If Wages Fell During a Recession," (2022) with Daniel Houser, Journal of Economic Behavior and Organization. Vol. 200. Working paper here
"My Reference Point, Not Yours," (2020) Journal of Economic Behavior and Organization, 171: 297-311.
"Implementation of a New Data Analytics Curriculum: A Case Study," (2019), with Jennings B. Marshall, Steven T. Jones, Alan Blankley, Chad Carson, Cynthia Lohrke, Matt Mazzei, and Kevin Pan. Proceedings of the Academy of Economics and Finance, 42: 25-30.
"Smile, Dictator, You're On Camera," (2017), with Matthew McMahon, Matthew Simpson and Bart Wilson. Southern Economic Journal, 84:1, 52-65.
"Economics of the World Beyond the Classroom: Two Methods for Teaching," (2017), with Steven Gjerstad, Journal of Economics and Finance Education, 16:1, 1-6.
"Information Effects in Multi-Unit Dutch Auctions," (2016), with Steven Gjerstad and David Porter. Southern Economic Journal 83:1, 126-145.
"An Experiment on Protecting Intellectual Property," (2014), with Bart Wilson. Experimental Economics, 17:4, 691-716.
"Underwater Recession," with Steven Gjerstad and Vernon L. Smith. The American Interest, May/June 2012.
Working Papers
"Finance and Economics Women's (FEW) Network: Encouraging and Engaging Women in Undergraduate Programs," with Darwyyn Deyo (under review)
"The Slow Adjustment of the American Technology Labor Force," with Henry Kronk