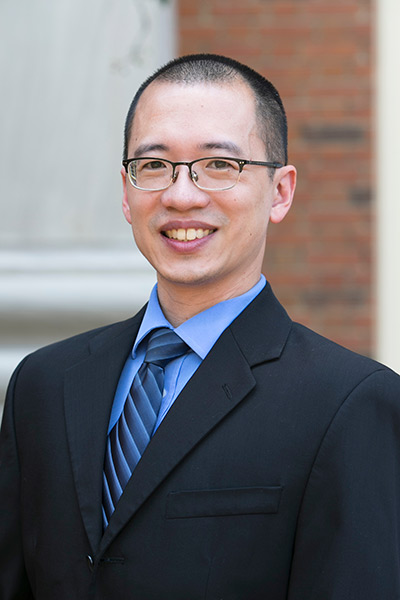 Assistant Professor of Quantitative Analysis
Brock School of Business
Department of Economics Finance and Quantitative Analysis
337 Cooney Hall
Kevin Pan is an assistant professor of quantitative analysis in the Brock School of Business at Samford University where he teaches data analytics courses including Intermediate Data Analytics, Data Management for Business Analytics, Introduction to Data Analytics, and Data Visualization for Business Analytics.
His research areas include the application of data analytics to business topics such as finance, accounting, and management, and research related to business values and corporate social responsibility. He also conducts interdisciplinary research related to healthcare and education. He is especially passionate about the intersection of the Christian faith, business and data analytics. Prior to becoming a tenure-track assistant professor, he was a visiting assistant professor at Samford University. Prior to that, he was an adjunct faculty member.
He is originally from Taiwan. He received his Bachelor of Science in electrical engineering with a minor in mathematics from the National Taiwan University. After Taiwan, he moved to the United States, and received his Master of Science in electrical engineering from Stanford University in California. He received his Ph.D. in biomedical informatics from Stanford University, where he applied data analytics to study large amounts of complex data.
In his spare time, he enjoys exploring Birmingham and participating in church activities. He especially enjoys volunteering for Hope Heals, a Christian ministry started by Samford University alumni to serve individuals and families affected by disabilities. 
Degrees and Certifications
Stanford University, Ph.D., Biomedical Informatics
Stanford University, M.S., Electrical Engineering
National Taiwan University, B.S., Electrical Engineering
Major Publications
Pan, K., & Kirkpatrick, N. (forthcoming, 2023).  Incorporating Biblical Motivations into a Business Analytics Course.   Christian Business Academy Review. 

Pan, K., Pearce, C., Jones, S. T., & Lai, Z. (accepted, 2022).  Types of Hospital Frauds: Nature and Methods of Prevention.   Journal of Forensic & Investigative Accounting. 

Pan, K., Harris, R. J., Blankley, A. I., & Hurtt, D. (accepted, 2022).  Ethical Motivations for Firms to Prioritize Stakeholder Well-being during the Initial Phase of the COVID-19 Pandemic.   International Journal of Sustainable Economy. 

Manis, M. M., Kyle, J. A., Dajani, D., Pan, K., Hughes, P. J., Georges Adunlin, Leland N. Allen, Charles E. Leonard (accepted, 2022).  Evaluating the Impact of a Pharmacist-Led Antimicrobial Stewardship Intervention at Discharge in a Community, Nonteaching Hospital.  Annals of Pharmacotherapy. 

Pan, K., Blankley, A. I., Harris, R. J., & Lai, Z. (2022).  Financial Fraud, Governance, and Survival in Congregations: An Empirical Assessment of Congregational Fraud in the United States Based on Cases Prosecuted by the US Department of Justice.  Journal of Leadership Accountability and Ethics, 19 (2), 42-63. 

Pan, K., & Collins, A. (2020).  Exploratory descriptive analysis of opioid prescribing prevalence of nurse practitioners and the specialties associated with the top prescribers.   International Journal of Nursing Practice, 26 (6). 

Pan, K., & Blankley, A. (2020).  Excel vs. Tableau: See Your Data Differently.  Journal of Accountancy, 229 (3), 32. 

Pan, K., Silver, S., & Davis, C. (2020).  Analysis of Psychiatrists' Prescription of Opioid, Benzodiazepine, and Buprenorphine in Medicare Part D in the United States.   Trends in Psychiatry and Psychotherapy, 42. 

Pan, K., Blankley, A. I., & Eason, C. C. (2019).  Integrated case for visual analytics and statistical analysis using pension plan data.   Journal of Business Cases and Applications, 24. 

Pan, K., Blankley, A. I., & Hughes, P. J. (2018).  An Examination of Opioid Prescription for Medicare Part D Patients Among Family Practice Prescribers.  Family Practice, 36 (4), 467–472. 

Pan, K., Blankley, A. I., Mazzei, M. J., Lohrke, C. F., Marshall, J. B., Carson, C. M. (2018).  Surveying Industry Advisors To Select Data Analytics Topics For All Business Majors.  The International Journal of Management Education, 16 (3), 483-492. 

Pan, K., & Blankley, A. (2018).  Using Visualization Software to Compile and Analyze Data: A Step-by-Step Guide for CPAs.  CPA Journal, 88 (6), 54-58. 

Hughes, P. J., Pan, K., & Kendrach, M. G. (2017).  Student Outcomes and Perceptions Related to Chroma Key(Green Screen) Technology Utilized in a Drug LiteratureEvaluation Course.  Medical Science Educator, 27 (4), 693-699.