Samford University's Doctorate of Education in Educational Leadership program is designed for students interested in leadership issues, as applied to educational institutions. The program is offered in a blended format allowing national and international access to our doctoral program, while maintaining the quality and personal touch that characterize our programs.
For each doctoral course, students will have the opportunity to attend class on our campus in Birmingham, Alabama (or closely located site) six times per semester.  If you are unable to attend class due to distance, you may use a web conferencing tool that allows you to participate synchronously without penalty.  All face-to-face class meetings will take place in the evenings or on weekends to accommodate the working professional. The remainder of the class will involve interacting with content, tasks, and discussions utilizing Canvas, our online learning management system.
Travel will be required for dissertation proposals and defenses.
Our award-winning faculty – researchers, scholars, former teachers, principals and superintendents, who are expert leaders in their fields - are dedicated to your learning and success.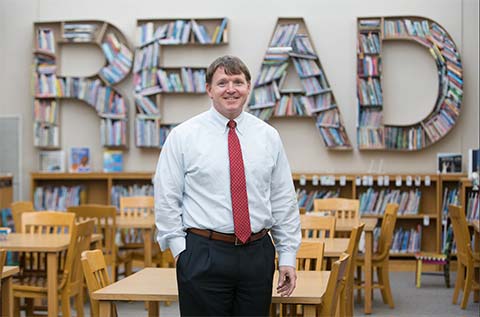 Deciding to complete my doctorate at Samford was one of the best decisions I've made as a school leader. Samford empowered me to engage and learn with the faculty and fellow students to help problem solve and find ways in which to make our educational system better for all students. I'm honored to continue to serve my students, and I'm proud to be a Samford Alumnus.--John Lowry Ed.D. '14
Objectives and Curriculum
All doctoral applicants must obtain an education specialist (Ed.S.) degree before earning an Ed.D. We offer an excellent opportunity through our Ed.S. program in Instructional Leadership. Should you need to obtain your Ed.S. degree, please contact us and we will be more than happy to share more information with you.
Through the 36–hour curriculum, candidates will explore the following concepts:
The origin of policy issues, the educational policy infrastructure, and the interrelationship of education policy to school practice.
Best practice for designing and implementing research methodologies, reading and interpreting research reports, and developing strategies for converting research into action.
Authentic problems of practice in a field-based environment.
The art and practice of negotiation and conflict resolution.
How to implement a central focus on helping students articulate an explicit set of values and beliefs to guide their actions.
Emerging organizational behavior theory and its application to the development of the school and school system of the future.
Students must complete 36 credit hours and maintain a 3.50 or higher cumulative GPA while enrolled in the Ed.D program at Orlean Beeson School of Education. Please view our full list of completion requirements.
For more information about the graduate courses and electives offered at Orlean Beeson School of Education, please visit Orlean Beeson School of Education's section of the Samford University Catalog.
Admission
Application Deadlines
Fall term: July 15
Spring term: November 15
Admission Requirements
To be considered for admission to the Doctorate in Educational Leadership program you must:
Possess a educational specialist degree from a regionally accredited institution.
For an application to be considered complete, we must receive all of the following*:
Online application for admission: Please be sure to list your personal e-mail address on the application
$35 Application Fee: This non-refundable fee is payable by credit card and is waived for Samford alumni, and current Samford students, faculty or staff
Official Transcripts showing bachelor's, master's and educational specialist's degree. Transcripts are considered official only when they bear the issuing institution's seal and arrive with the seal intact. Transcripts can be sent electronically to kbgilrea@samford.edu or by mail
Dispositions form filled out by current supervisor. May not be the same contact as the letter of recommendation
Letter of recommendation: one letter of recommendation uploaded to online application
Professional resume
Writing Sample: highlight one problem facing education today
Interview with program director
To check the status of application items, you may login to your application account and view the list of application items received.
Is this Program for Me?
This program is designed for professionals with a passion for education and an unwavering belief in the importance of leadership development. If you have a desire to serve the education system in an administrative role, join this program and be pushed to your greatest potential.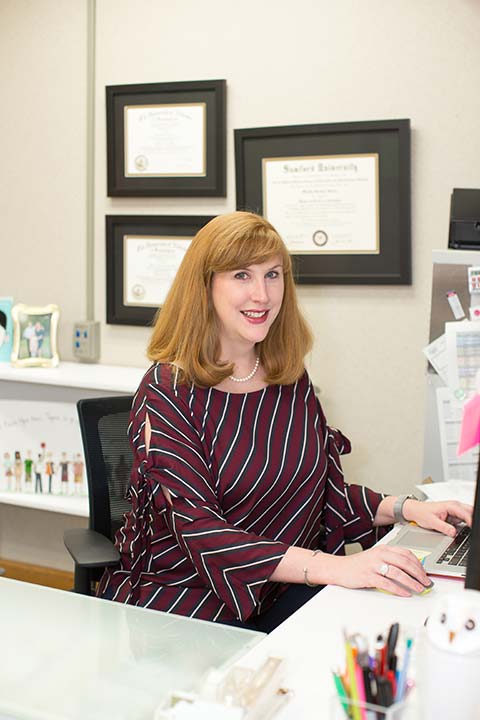 Samford created a personalized learning experience that prepared me to be a better educational leader. I expanded my knowledge base with expert professors in their field and made many personal and professional connections. -- Wendy Story M.S.E. Instructional Leadership '13, Ed.S. '17, Doctoral Candidate
Our candidates are highly sought after, and many alumni are currently serving in notable leadership positions.
Recent Dissertations
December 2020
Dissertation Title: Teacher Retention in Alabama's Urban Schools: A Quantitative Study
Student: Janelle Cousins-Billings
Chair: Les Ennis
Dissertation Title: An Analysis of Factors that Impact Special Needs Programming in Christian Churches
Student: Johanna Jones
Chair: Jane Cobia
Dissertation Title: Secondary and Post-Secondary Instructors' Perceptions of College Readiness in Gateway English
Student: Haley Nix, Eugene Dallas
Chair: Jane Cobia
Dissertation Title: Promoting Resilience in Teachers: An Examination of a Program Designed to Improve Teachers' Social-Emotional Competence
Student: Jessica Williams, Benjamin Styles
Chair: Mary Yakimowski
Dissertation Title: Educators' Beliefs on Evidence-Based Problem-Solving Mathematical Practices in High and Low Performing Urban Elementary Title I
Student: Ann Eskridge, Kenya Hall, Robert Stewart
Chair: Mary Yakimowski
Dissertation Title: A Case Study Exploring the Mindsets of Those in Residential Group Homes and Perceptions of Teachers and Students
Student: Meghan Owens, Ken Thornbrough
Chair: Mary Yakimowski
Dissertation Title: Teachers' Perception of Social Emotional Learning: A Qualitative Study of Academically Successful Middle Schools with Low Socio-Economic Status 
Student: LaTausha Daniels, Dedre Warren, Angela Day
Chair: Jodi Newton
Dissertation Title: Educator Perspectives on the Most Useful Strategies for Minority Students in Acquiring Social-Emotional Learning Skills in an Urban School Setting: A Descriptive Qualitative Study
Student: Catherine Finkley, Michelle Hayes
Chair: Les Ennis
Dissertation Title: Teachers Perceptions of Principal Leadership Styles in Schools with Effective Character Education Programs 
Student: Thomasena Garner, Edwards Williams
Chair: Jodi Newton
Dissertation Title: Exploring Educators' Lived Experiences of Facility Dogs in Elementary Schools: A Phenomenological Study
Student: Wendy Story, Laura Tate
Chair: Amy Benton
May 2020
Dissertation Title: Instructional Practices in Title I Schools with High Performance in Third-Grade Reading
Student: Rhonda M. Booth and Rachel R. Evans
Chair: Dr. Jodi Newton
Dissertation Title: A Mixed-Method Study Examining Transformational Leadership on Elementary School Culture from Multiple Perspectives
Student: Evelyn Coffey, Leslie Maples and LaKeeta Perkins
Chair: Dr. Mary E. Yakimowski
Dissertation Title: A Study of Teacher Perceptions on the Impact of Technology-Enhanced Practices and Student Engagement
Student: Dawn Mann and Brandon Mann
Chair: Dr. Jane Cobia
December 2019
Dissertation Title: Student Voice: Methods of Engagement
Student: Alfreda Brown, David Johnson, Demica Sanders
Chair: Dr. Jane Cobia
Dissertation Title: An Exploration of Stakeholder Engagement on Character Development Practices in K-5 Nationally Recognized Schools of Character
Student: Kim Lavender and Lillie Lewis
Chair: Drs. Patricia Hodge and Jodi Newton
Dissertation Title: A Developmental Evaluation of the Initial Implementation of Networked Improvement Communities to Improve Mathematics Instruction
Student: Cameron C. Channell, Terri B. Jones, and Pamela D. Liebenberg
Chair: Dr. Les Ennis
Dissertation Title: Perceptions of Delivery, Advising, and Partnership Characteristics in Educational Leadership Doctoral Programs: A Mixed Methods Study
Student: Ashley Eldridge Elliott and Laura D. Ware
Chair: Dr. Mary Yakimowski
Dissertation Title: Perceptions of Superintendents: High Impact Leadership Actions
Student: Ambra J. Hamilton and Shaniece P. Williams
Chair: Dr. Jane Cobia
Dissertation Title: A Qualitative Study: Urban Middle Schools with Low Student Retention Rates
Student: Mark K. Nixon and Shun T. Williams
Chair: Dr. Monique Witherspoon
Dissertation Title: A Mixed Methods Study on the Professional Development Needs of Urban Middle School Millennial Teachers
Student: April Harris Finkley, Jacqnaii A. Finkley, and Charlayne Jordan
Chair: Dr. Mary Yakimowski
Dissertation Title: Perceived Student-Related, Institutional and Integration Supports for Completing the Dissertation Process in Educational Leadership Doctoral Programs
Student: Veronica B. White and M. Amanda Wilbanks
Chair: Dr. Mary Yakimowski
Tuition and Financial Aid
Tuition
Please visit our Tuition and Fees page for more information, or contact the Graduate Admissions Coordinator.
Financial Aid
A financial assistance program administered by Samford One Stop has been established to aid students in attending Samford University.
Education students have the ability to utilize Stafford Loans and Grad PLUS Loans. As an education student, a FAFSA is required to receive either of these loans.
To learn more about financial aid options, please visit the Samford One Stop or call 205-726-2905.
Graduate Programs Open Forum
February 11, 4:30 p.m.–6 p.m.
Virtual Event
Attend a virtual open forum to learn more about Orlean Beeson School of Education graduate programs.