Samford University's Orlean Beeson School of Education is honored to host Remembering Timothy Keller: An Evening with Collin Hansen for its 13th Annual Tom and Marla Corts Distinguished Author Series.
Hansen will be sharing an intimate look at one of the 21st century's most influential church leaders, the late Timothy Keller. Hansen's work, Timothy Keller: His Spiritual and Intellectual Formation, introduces readers to the people and events that shaped Keller's own thinking and spiritual growth.
Guests of this year's Corts Series will have the opportunity to discover the principles and practices that fueled Keller's ministry, take the best of Keller's teachings to meet the challenges of the 21st century, develop historical, theological and cultural perspectives, and to learn more about God's providential presence in the life of one of America's foremost theological and spiritual leaders.
Convocation credit is available for Samford students, students are eligible for one complimentary ticket, faculty and staff are eligible for two complimentary tickets. Discount codes for students, faculty and staff will be available via email at a later date. The cost of admission for guests is $10.00.
The event will be held at Samford University's Reid Chapel on Feb. 20 at 7 p.m.
Your attendance of this lecture and Q&A supports the intellectual and spiritual formation of Samford students and advances the mission of Orlean Beeson School of Education at Samford University.  
Corts Series Sponsors
The Corts Family
Davis Architects
Previous Guests
2023—Tim Tebow - Video
2022—Charles Martin
2020—Patti Callahan Henry - Video
2019—Anthony Ray Hinton
2018—Eric L. Motley
2017—Philip Yancey
2016—Parker J. Palmer
2015—Laura Bush
2014—Wes Moore
2013—Garrison Keillor
2012—Wendell Berry
2011—Greg Mortenson
The names Tom and Marla Corts have been synonymous with Samford University for three decades. Tom Corts was known for his invaluable leadership, service and love for books and classical literature. Ten years ago, Marla Corts assisted in the launch of the Tom and Marla Corts Distinguished Author Series in his memory.
Sponsorship Opportunities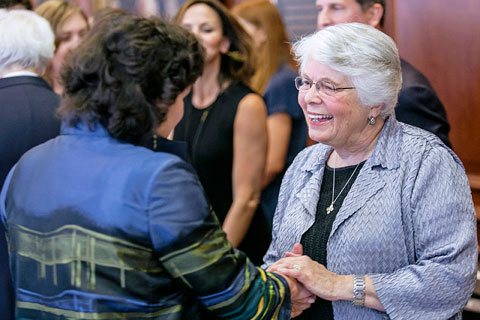 A portion of the proceeds from the Tom and Marla Corts Distinguished Author Series will benefit scholarships for students pursuing a degree within Orlean Beeson School of Education.
Sponsorship opportunities are available annually. Contact Kathy Acton at 205-726-4224 or email kacton@samford.edu for more information.