Corts Series Sponsors
Special thanks to our premier sponsors and educational advocates for their support of this event:
 Premier Sponsors
Alan and Dina Long Family
Pam and Bill Smith Family Foundation
Educational Advocates

Previous Guests
2023—Tim Tebow
2022—Charles Martin
2020—Patti Callahan Henry - Video
2019—Anthony Ray Hinton
2018—Eric L. Motley
2017—Philip Yancey
2016—Parker J. Palmer
2015—Laura Bush
2014—Wes Moore
2013—Garrison Keillor
2012—Wendell Berry
2011—Greg Mortenson
The names Tom and Marla Corts have been synonymous with Samford University for three decades. Tom Corts was known for his invaluable leadership, service and love for books and classical literature. Ten years ago, Marla Corts assisted in the launch of the Tom and Marla Corts Distinguished Author Series in his memory.
Sponsorship Opportunities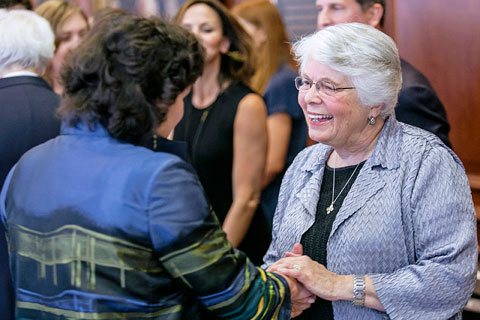 A portion of the proceeds from the Tom and Marla Corts Distinguished Author Series will benefit scholarships for students pursuing a degree within Orlean Beeson School of Education.
For more information, click here.
Sponsorship opportunities are available annually. Contact Sheri H. Ransome at 205-726-4462 or email shransom@samford.edu for more information.