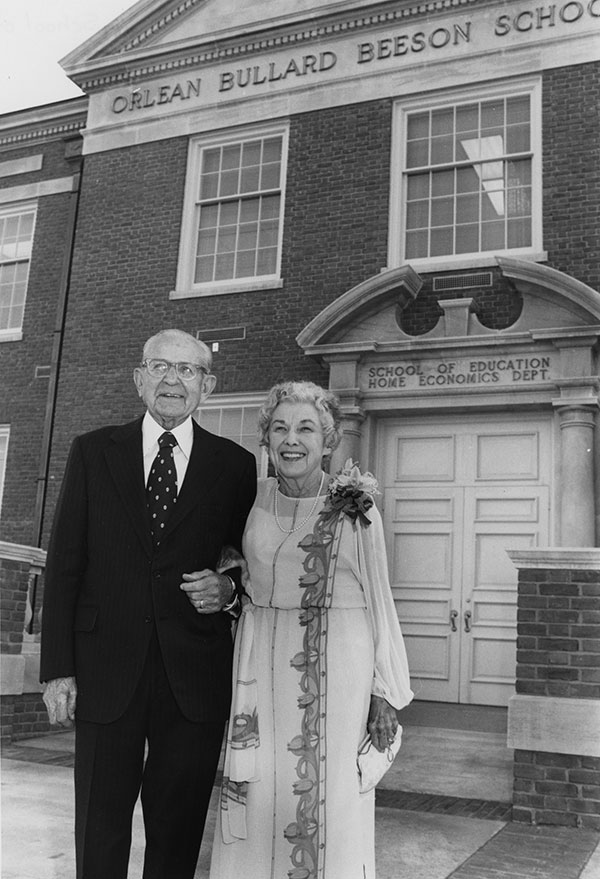 Orlean Beeson School of Education was founded in 1915. In 1978, Mr. Ralph Beeson and Mrs. Orlean Bullard Beeson made one of many transformational gifts to Samford, naming our School of Education in honor of Mrs. Beeson, which underscores the tremendous legacy she provides for our students, faculty, staff and alumni. Today, Orlean Beeson School of Education continues to enrich the community and produced graduates who demonstrate commitment to the profession, high moral character and leadership abilities. Our school is committed to preparing graduates who are empowered to educate, lead and serve.
Orlean Beeson School of Education is divided into three dynamic departments:
Teacher Education
Human Development and Family Life Education
Educational Leadership
Teacher Education
This department houses nationally-recognized teacher education programs. Undergraduate programs offered are Early Childhood, Special Education, Elementary, Elementary Collaborative (ESEC), Secondary Education, and an Elementary Education degree with a concentration in Christian Education and Missions for students seeking certification to teach in alternative educational settings. 
Human Development and Family Life Education
This department offers the Human Development and Family Science program. In addition to human development and family science, concentrations in child development, child life and gerontology are available. This department also offers a 3 + 3 Law Program, which is available to Samford students from any undergraduate major; however, the human development and family science degree works particularly well for those interested in family law and policy issues. Also offered are a family science/public health and family science/social work fast track options which allow students to obtain a bachelor's and master's degree in five years.
Learn More
Educational Leadership
Graduate programs offered in this department include Instructional Leadership at the master and specialist level along with face-to-face, blended and online offerings for the Doctorate in Educational Leadership program. This department also offers a master's in Educational Leadership: Policy, Organizations and Leadership for the professional looking to expand their leadership skills.