Published on August 20, 2021 by Daniel Dodson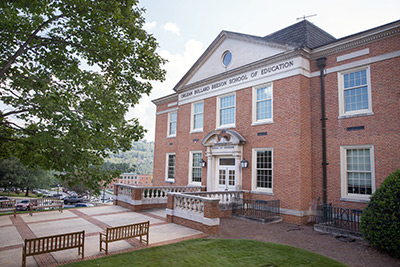 Administrators Brad Cooper, Mark Edwards and Brad Stapler lead public schools in Alabama that employ instructional coaches who use evidence-based practices to improve reading and math performance at the secondary level. As doctoral candidates at Samford University's Orlean Beeson School of Education, this common thread prompted them to explore the role of instructional coaches in high schools in Alabama.
The researchers investigated the perceptions of the instructional coach's role, relationships and influence on student and teacher learning as described by the four dimensions of the Self-assessment of Leadership of Teaching and Learning-Amended (SALTAL-A). Through their dissertation, "Instructional Coaches in the High School Setting: Their Role, Relationships, and Influence on Teacher and Student Learning," completed in 2020, they sought to provide recommendations for other schools and school systems who want to employ instructional coaches.
"As a high school principal who is fortunate to have instructional coaches in my school, I became interested in this topic as an effort to determine the perceptions of educators on instructional coaches across the state," said Cooper. 
Cooper, Edwards and Stapler employed a mixed-methods research design that started with the collection of quantitative survey data and ended with qualitative focus group data.  Administrators, teachers and instructional coaches from across the state of Alabama participated in the study.
"We used a survey that had 24 items to gauge certain attitudes toward the role and the relationship in that setting," said Edwards. "And then we used quantitative statistics to analyze the differences among the groups. We emailed the survey to every high school principal in the state of Alabama, and we asked them to distribute it to their math and English teachers and if they had an instructional coach, the instructional coach as well." 
The researchers received 238 completed responses. Following an analysis of the survey results, the researchers conducted a focus group with 12 educators from high schools that have instructional coaches. 
The researchers' hypothesis stated that there would be no significant difference in perceptions among administrators, educators and instructional coaches. Specifically, that each group of respondents would have the same attitudes, perceptions and viewpoints toward the role of the instructional coach in a high school setting.
"We assumed that because we had that vision, that others would as well, but that was not the case," said Edwards. "We found that principals and teachers do not have the same perceptions about the position of an instructional coach. There was a significant difference." 
Their study found that teachers had the lowest perception of instructional coaches as compared to the administrators and coaches themselves. 
"So, the implications are if you're going to employ such a person, you need to have a good understanding of what their role means and how others will perceive it," said Edwards. 
This study provides information to guide the selection and integration of instructional coaches into schools and highlights the importance of having a clear understanding of the role and leadership capacity of individuals.
"This research can be used to justify the need of instructional coaches in high schools across the state," said Cooper. "If organized correctly, I really feel that, based on the research, this has the potential to improve instruction."
According to Edwards, there is very little published literature on the topic of instructional coaches. Though their study was focused on schools in Alabama, they see a need for studying the topic across the nation.
"We determined this is a topic that should be investigated first regionally and then nationwide because as schools are held accountable for academic progress, instructional coaches are a way that schools can help teachers meet those end goals," said Edwards.