Published on January 9, 2020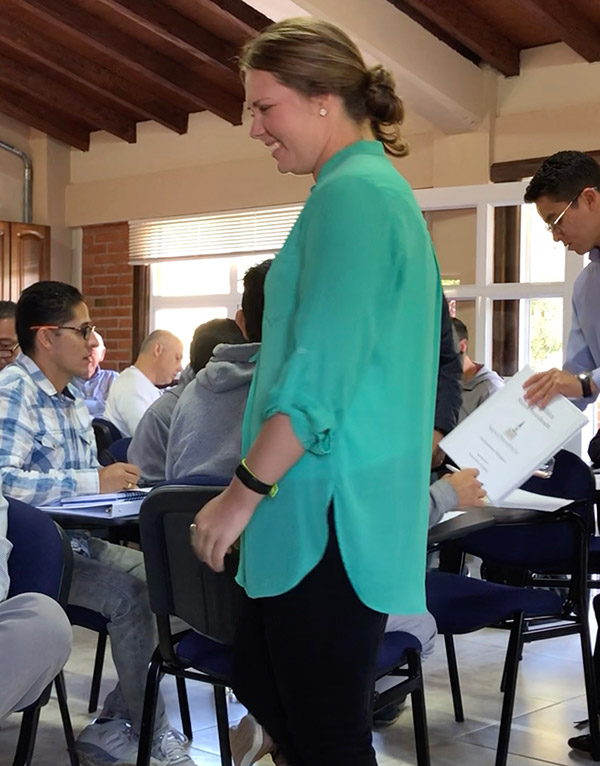 Degree/Year: B.A., Mathematics, 2010
Hometown: DeLand, FL
Current Position: Executive Director, Skinner Gospel Ministries
Describe your journey from Samford to your current position: After graduating from Samford, I joined Teach for America, teaching high school mathematics at a public school in inner-city Miami. I taught at my placement school for four years, during which time I also obtained a master's in education from the University of Miami. The environment at my school blended several things I was and still am very passionate about: education, mathematics, cross-cultural ministry and missions. From a young age I have always had a desire to pursue missions and live missionally wherever God leads me—I always imagined this would be overseas somewhere. As I looked for job opportunities after college, the Lord was clearly leading me to be a part of Teach for America which placed me in Miami.
After four years in Miami, I taught in a private Christian school for a year in South Florida before moving back to Birmingham for an opportunity to teach at Restoration Academy, a private Christian school serving an inner-city community. I worked at Restoration for three years during which time I was able to invest with my students not only in the classroom but outside of it as well. I had a unique teaching environment where I was able to take my students on a summer mission trip, have monthly gatherings for the high school female students in my home, help plan and host an annual high school girls' retreat with others at my local church and was a part of starting the first RA ladies' outdoor club with other female coworkers. Through these opportunities outside of work, the Lord revealed to me a growing passion for ministry outside of the classroom.
About this same time, I went on a mission trip to Colombia over a summer break and felt the Lord leading me to remain connected to the ministry, Nueva Providencia (or New Providence). At the time I was not sure how I was to remain connected, but after several opportunities to reconnect with the founder of the ministry, who is also a family friend, I learned of a need he had for someone with educational expertise to become a part of this ministry. Nueva Providencia has a small Bible school that was about to begin the process of expanding, and he saw a need for some oversight and input as they began that process. As a result, I have been working with him for just under a year and a half coming alongside Nueva Providencia as the ministry expands and grows.
In my current role I help develop curriculum, revise the resident-living program, create sustainable systems and structures within the school, facilitate trainings with ministry partners and provide continuing development of our current teachers. And while my role does extend beyond the school, during this time of transition, most of my impact at this time is within the school realm.
What do you enjoy most about your work? I enjoy getting to be relational with my coworkers. We encourage one another in the truths of the gospel and learn from each other as we work to create a place where God is glorified in the school and the overall ministry. I also enjoy the cross-cultural component of my job and creating an environment that promotes learning from one another. Though we are in different cultures and reflect who God is in different ways, we are united in the gospel and are working toward a common goal. It has been a wonderful opportunity for us all to learn more about our own culture, each other's culture and ourselves.
Did you always know this is what you'd like to do? In some ways, yes; though the path that brought me here is not what I would have authored, I can clearly see God's hand in the process. I have always had a passion for missions and teaching and since high school have wanted to pursue Education and be a part of missions specifically in Latin America. As God led me more to inner-city missions in the states, I was honestly surprised when given the opportunity to be a part of Nueva Providencia in Colombia. But it has been encouraging to see how each of my work experiences has prepared me in different ways for the job I now have.
How did Samford prepare you for your career? When I think back on my time at Samford, I was impacted not only in the classroom, but through relationships with professors, campus ministers and those in Residence Life. There are many higher education institutions that provide an excellent education within a traditional classroom, of which Samford is one. However, what stands out to me more and sets Samford apart for me are the relationships I had with those outside of the classroom.
This holistic experience allowed me to process what I was learning in the classroom to prepare me for a professional career and determine how my faith would intersect with my work in a way that was winsome, loving and God honoring. My professors in the School of Education and in the Mathematics Department cared about me and made time to listen and provide guidance as I processed what it meant to integrate my faith into my future work career. Also, seeing myself as a leader in the classroom and being given leadership opportunities within my schools as well as my current position have caused me to reflect on an upper elective educational leadership course that had a huge impact on helping me think through secular leadership models and how that compared to biblical leadership.
What advice do you have for current students? First and foremost, pursue a relationship with the Lord; love Him above all else and rest assured that He will guide you in the future work He has for you. Second, pursue learning in all areas of your life, don't confine learning to the textbooks assigned and the times classes meet. Seek to learn from your professors outside of the classroom—they have a lot of wisdom to offer that may not fit within the syllabus, yet it is just as important. Third, use opportunities on campus to lead and serve to learn more about who you are, the gifts God has given you and how those gifts can be woven into the career you are thinking about pursuing.
What is your favorite Samford memory? I was an RA in ResLife for three years, specifically in Central Campus with freshmen ladies in Vale and Pittman and those are some of my favorite memories. The excitement and newness that freshmen bring to campus was a joy to be a part of. I also enjoyed the common bond we had as RAs working to serve our residents and glorify the Lord in the way we impacted Samford's campus. For me, this opportunity for leadership grew my understanding of how to lead, serve and love people in the context of monthly hall events, Skates 280 costume parties, weekly Bible studies and many other activities.
Looking ahead, what are your career goals? In all the jobs that I have had, my goal has been to glorify God in the way that I interact in the workplace—that through my relationships with co-workers, students and ministry partners they would come to know more about who God is. I would say that this is still true as I think about future goals. This manifests itself differently as I am now in a Christian ministry context rather than a secular teaching position, but I would say the desire is the same—that God's kingdom would be furthered in the work that I do and that he would be glorified in the way I go about doing it.