Published on June 28, 2018 by Sara Roman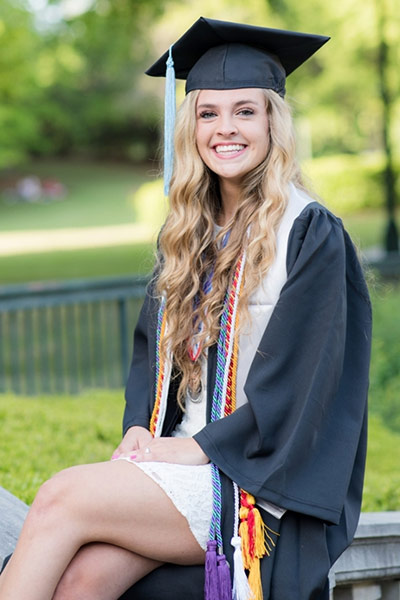 Degree/Year: Bachelor of Science in Early Childhood, Special Education, Elementary, Elementary Collaborative (ESEC), 2018

Hometown: Alpharetta, Georgia

Current Position: 6th Grade Inclusion Teacher
Describe your journey from Samford to your current position: "God ordained" is the best way to describe my journey from Samford to my current position. My whole Samford Story was a "God thing" and He definitely worked in mighty ways to reveal to me that being completely out of my comfort zone is the plan He has for me at this moment. 

Did you always know this is what you'd like to do? I always knew I wanted to be a teacher. When I was little, I would play "teacher" and drink hot chocolate (pretending it was coffee) and teach my class of sisters and pretend students. I had a passion for children and making learning fun, so I knew that teaching was meant for me. However, I always thought that I would be a kindergarten, first grade or second grade teacher. I had not considered a career as a sixth-grade inclusion teacher. As I enter my first year of teaching, I will admit that I am nervous, but I am also extremely excited because I have never had such a clear calling from the Lord that this is where I am supposed to be. So, bring on the big kids!

How did Samford prepare you for your teaching career? Samford prepared me more than I could have ever imagined. I was pushed to believe in myself and this program molded me into the type of teacher that I always wanted to become. From the foundation that this program is built on, to the professors and peers and the hours and hours of hard work, Samford has prepared me, and I am ready for the next chapter!

What advice do you have for current ESEC students? My advice for students currently in the program is one thing at a time, work hard and time manage; everything will get done. Do not be too stressed to miss out on the moments in your college years. Cling tight to your faith and the friendships in your major, because this is what will get you through when it gets tough. Pursue relationships with professors and staff in the special building that you will call your second home. Just remember that everything you do, really is for a purpose. You will be so thankful for the experience and education that you have received after you graduate. 

What is your favorite Samford memory? There are so many memories with Samford traditions, friends and funny things that we did together. Though, one of my favorite memories was being able to have my senior year with my little sister. That was something special and I will always cherish the times that we were able to do college together. 

Looking ahead, what are your career goals? Looking ahead, I hope to be a light to my students. I hope to be a teacher that thinks out of the box and makes learning fun for all. I pray that I am able to be there for the students that need me and make an impact in their life.