Published on September 28, 2017 by Sara Roman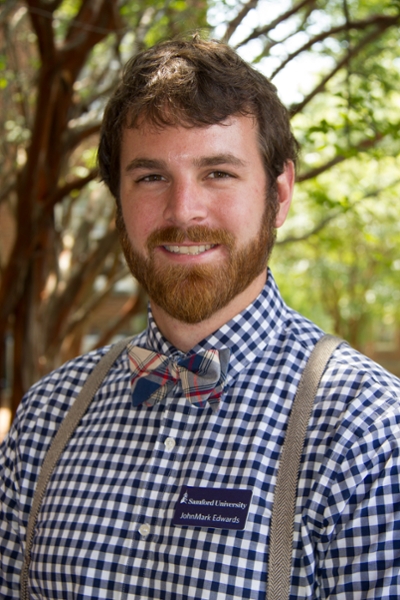 Degree/Year: B.S.E., secondary education/social studies, 2008
Hometown: Oak Park, IL
Current Position: Teacher in Residence, Samford University's Orlean Beeson School of Education and Secondary Education Fifth-Year Nontraditional interim director
Describe your journey from Samford to your current position? The journey began fall of my senior year at the education department's annual teacher job fair. I remember it like it was yesterday; I was wearing the only suit I owned, I had my stack of resumes and I had scheduled interviews with as many schools as I could fit into a single job fair day. All of the interviews I had scheduled were suburban schools that I had some familiarity with, but as destiny would have it, I happened to pass by the Birmingham City Schools table with a few minutes to spare. I stopped and emphasized what I had emphasized all day long, my international experience. She was impressed and informed me that she had the perfect spot for my skill set, a school that had just opened called Phillips Academy located in the heart of downtown Birmingham. A week later, I was interviewing for the position and on a tour of Phillips Academy located in a focal point for the Civil Rights Movement; a hundred-year-old building with original murals and natural wood floors. I jumped in and immersed myself in the culture. I started off primarily teaching grade seven Civics and World Geography and felt well prepared in many ways, thanks to great professors at Samford University, but I had so much to learn. I continuously reflected on how I might have the greatest impact. This led me to coach football, academic bowl and Junior United Nations teams. I brought the History Bee and Geography Bee to the school and started the first inner-city middle school lacrosse program in the state. I took history classes at UAB to deepen my content knowledge, earning an M.A. along the way. I wrote grants, joined networks of great teachers, developed PD, mentored teachers, and found myself Birmingham City School's Teacher of the Year, Samford's Golden Apple award winner, The Birmingham Times Trailblazer, and National Board Certified - all in 2014. I was ready for a new challenge. Every year, I got better at being a teacher and I wanted to export my ideas and yet again I would ask myself, how can I make an even greater impact. When I came across Vanderbilt's Ed.D. program, I knew it was perfect, if they would accept me. I officially started in the summer of 2016, and I am currently about halfway through the program. When Samford's education school offered me the interim teacher in residence position, I knew that God had a sabbatical in store for me. Thus, I'm here at Samford teaching the teachers, taking the time to reflect on my own craft - the art and science of teaching and learning, and figuring out where I can be most impactful once I have an Educational Leadership and Policy degree.
Did you always know this is what you'd like to do? I knew I wanted to make this world a better place from a very young age. By the age of 16, I knew that it would be in the realm of education, youth ministry or both. I knew at that age how impactful education was and if I wanted to make a lasting impact, I'd need to reach the kids. The specifics, divine providence for sure. How I got to Samford? God. How I ended up in Birmingham City Schools? God. Why I'm still in Birmingham? God opened certain doors and closed others. Samford and Vanderbilt are just the most recent doors that have been opened.
What advice do you have for current secondary education students? Learn from everyone! Ask questions including the question: "What questions am I not asking?". Practice and get involved in as many teaching and learning opportunities as possible. Last, step outside your comfort zone.
Looking ahead, what are your career goals? I finish my doctorate in May 2019 and hope to get a couple years of experience as a principal in a Birmingham City school and eventually reform the Birmingham City School system. Lots of great things are coming out of Birmingham City Schools that are overlooked. I am deeply invested in the education system and believe that big urban school districts, in general, have great challenges and with great challenges come great opportunities to make big changes - I want to be a part of that process here in Birmingham. I'm also open to the reality that my skillset and passions might be better served in a nonprofit that is built to serve the district or a charter school or even working for the state department of education.