Published on November 8, 2018 by Sara Roman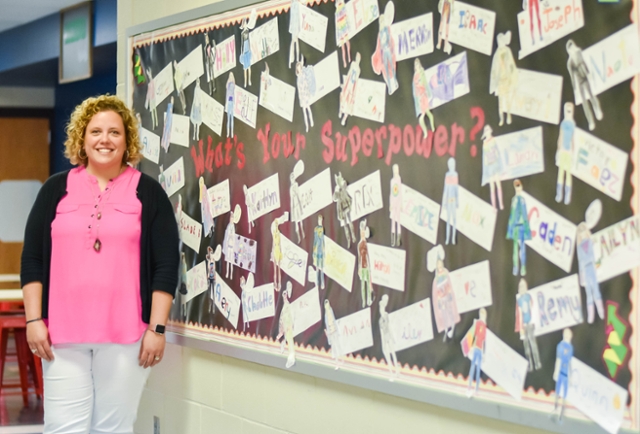 Degree/Year: M.S.E. in Gifted Education, 2012
Hometown: Birmingham, AL
Current Position: Enrichment Teacher, Greystone Elementary, Hoover City Schools
Describe your journey from Samford to your current position: I came to Samford to get my master's degree already being in a gifted teaching position. I was able to work on my degree and teach at the same time. This was amazing because it helped me use what I was learning immediately. My professors allowed me to use their assignments to build actual curriculum in my classroom. There were some weekends where I felt like my class was helping me write my lesson plans for the next week! How amazing is that? You definitely cannot say that in most college programs!
 What do you enjoy most about your work? I love being able to help kids love learning. It seems we have many students who feel like school is drudgery because of either the things they are learning, the lack of challenge in the regular curriculum, or the way they are being taught. The enrichment class is the perfect way to change that for students. Because of the ability to teach to a student's interest and make things more personal with small groups, I am able to help students in ways that general education classroom teachers cannot do because of time and curriculum limitations.
Did you always know Gifted Education was what you wanted to do?  My mom was a gifted education teacher for many years. I always loved the activities she did with her students. However, I did not enter this world until year 13 of my teaching career, but I soon learned that Gifted Education is a natural fit for me. I love technology and was a technology coordinator and coach in the past. When I became stretched between too many schools I decided to head back into the classroom. I have always loved project-based learning along with real world learning opportunities. The gifted classroom took the limitations that were in the regular classroom due to testing and mandated curriculum off of me. No longer did I have constraints on my creativity with teaching students. I was able to ask them what they wanted to learn and explore those areas with them. I was able to cater to each student's needs and find ways to help them grow and learn in areas of their social, emotional, and academic needs. I love it and will always love it! 
How did Samford prepare you for your career? The first thing I would say that Samford did to prepare me for my career was to give me outstanding examples of professors who were current in their knowledge of the field. I can truly say that Dr. Patti Wood is one of the best professors I have ever had, and that is saying a lot considering I have four degrees. She is an amazing asset and resource for anyone who is interested in joining the gifted community. Samford has also given me contacts in the gifted community that have helped and continue to help me grow professionally.
What advice do you have for current students? If I could give advice to current students it would be that if you are working on a masters or certification in gifted education you should immediately connect with other gifted educators around the state. As a gifted teacher, you will be the only person like yourself in your building in most cases. Because of that, you will have very few people who understand your teaching needs and situation. You will need the help of others who do understand and can energize you with ideas, feedback, and support! Make sure you connect with the people in your classes. Get to know them, find out about what they love to do when teaching, go observe them in the classroom and make sure you connect with them on a regular basis so you can have a group to lean on when you need support, because at some time we all need it!
What is your favorite Samford memory? My favorite Samford memory is not one, but a combination of memories. I loved that each weekend we met for class, it was a time when I could talk with others openly about the issues I faced and have time to get help and answers from people who were just like me and facing the same things. I loved that time to hang out and chat, to unload and refuel! That was priceless, and I miss it now that I am not in school any longer.
Looking ahead, what are your career goals?
In the near future I am going to open a school that focuses on teaching children at the level of their needs rather than their age. It will also focus on finding out where children's passions are and giving them learning and internship opportunities in those areas. God designed us with specific skills and talents and this school seeks to encourage and grow those, while also providing the foundations needed. Each semester, students will be able to design their learning path with advice from their mentor group of parents, teachers, and professionals based on a specific set of learning needs for all children. After completing their learning, they will prove what they know through a review board process with that group. Currently I am working on financial support and hope to open within the next year or two.