Published on August 7, 2018 by Sara Roman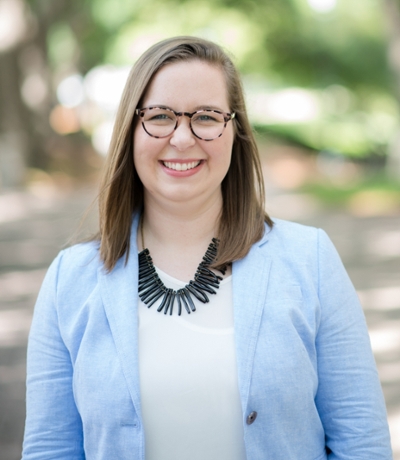 Degree/Year: Early Childhood, Special Education, Elementary, Elementary Collaborative, 2009
Hometown: Albany, Georgia
Current Position: Exceptional Education Teacher at Minor Community School, Jefferson County Schools, Birmingham, Alabama
Describe your journey from Samford to your current position: I got my job as a result of the interviews that Samford's Orlean Beeson School of Education has for graduating seniors. I went to my preliminary interview in Orlean Beeson School of Education's building and a subsequent interview with Jefferson County Schools soon after. I was hired to teach a special education class at Crumly Chapel Elementary a week before I graduated. During my third year of teaching, I decided to obtain my Master's in Early Childhood Special Education at the University of Alabama at Birmingham. For my fourth year of teaching, my students and I were moved to Minor Community School and for the next 5 years, I taught the Autism unit. Last school year & this school year, I am back full circle to teaching my original class from Crumly Chapel Elementary.
 What do you enjoy most about your work? I enjoy the relationships I build with students and their families. It is a sweet gift to get to teach most of my students for several years because I grow to know them and their families on a deep level. We set a lot of goals, walk through many trials, and celebrate numerous achievements. My students and their families are my greatest teachers.   
Did you always know this is what you'd like to do? I actually never intended to be a teacher, but God had better plans for my life than I did. Without ever considering teaching while growing up, I declared education as my major my sophomore year of college, and at that time, I wanted to teach kindergarten. It was not until my senior year of college during my special education clinical, that I fell in love with special education. It is clear how God directed my steps looking back, but I am more surprised than anyone to be teaching for the tenth year.           
How did Samford prepare you for your career? Samford prepared me to teach in a field that is ever evolving. The professors did not teach me how to be just an educator but how to be a lifelong educator and learner.  
What advice do you have for current students? Find mentors. Surround yourself with people you aspire to be but also people who are different than you. In every season of teaching, I have listened and learned from several trusted mentors. Some believed in me more than I believed in myself, which gave me fuel for another day. Others pushed me consider another perspective and to grow through challenges. They also have celebrated my successes, which are really equally theirs. I have learned from their journeys, and they have helped me progress along and process mine. Good mentors are essential to teaching. Find them and glean all you can from them!