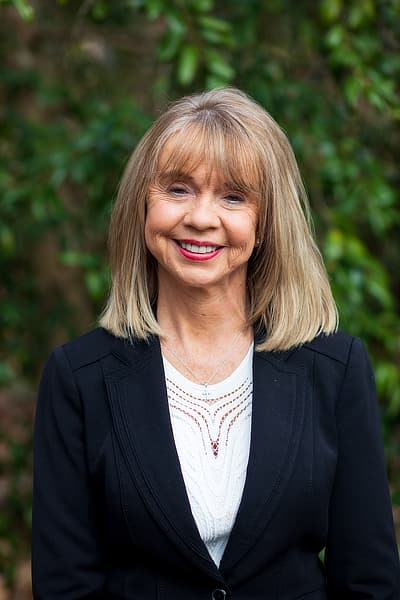 Ralph W. Beeson Dean and Professor
Moffett & Sanders School of Nursing
1528 CHS Building 1
Dr. Melondie Carter has been recognized at the state, university and college level for her outstanding commitment to teaching. During her 34 years as a nurse educator, she developed and taught undergraduate and graduate courses. She served as the assistant dean of undergraduate programs at The University of Alabama's Capstone College of Nursing for seven years. She implemented a wellness program in an industry and co-developed the WellBAMA health promotion and screening program for faculty and staff. The two wellness programs provided additional clinical opportunities for undergraduate nursing students. Her scholarly work focuses on health promotion and strategies to improve nursing student's success. She and her husband have four children and eight grandchildren.
Melondie feels blessed to have the opportunity to fulfill her passion for nursing education and leadership in a Christian university. Her favorite Bible verse is Proverbs 17:22, "A merry heart doeth good like a medicine". She believes there is no better representation of this scripture than nurses embracing happiness during difficult challenges to bring joy and hope to the patients we serve.
Degrees and Certifications
PhD, Nursing Service Administration and Community Mental Health, UAB
MSN, Adult Health and Nursing Education, UAB
BSN, Troy University
Awards and Honors
SEC Leadership Fellow, 2014-2016
AACN: Faculty Policy Intensive Fellow, 2013
Sam May Commitment to Service Award, 2011
Outstanding Committing to Teaching Award, University of Alabama Alumni Association, 2000
Alabama State Nursing Association Nurse Educator Award, 2000
Involvement/Professional Societies
Health Enhancement Research Organization, HERO Think Tank
Sigma Theta Tau International, Past-President and Counselor
American Nurses Association, Member
XXXI University of Alabama Women's Leadership Honorarium, Counselor
Expertise
Population Health,
Adult Health
Mental Health
Recent Publications
Welch, T. & Carter, M. (2020). Expertise among critical care nurses: A grounded theory study. Intensive and Critical Care Nursing, 57. https://doi.org/10.1016/j.iccn2019.102796
Welch, T. D. (2018). Deliberate practice and skill acquisition in nursing practice. The Journal of Continuing Education in Nursing, (49), 6, 269-273.
Carter, H., Sackett, K. & Carter, M. (2016). Application of concept mapping as a visual thinking strategy in an asynchronous online graduate informatics course. Computers Informatics, Nursing: CIN. 34(8), 331-335.
Johnson, P., Turner, L., Carter, M. & Kelly, R. (2015). Metabolic syndrome prevalence and correlated in a worksite wellness program. Workplace Health and Safety, 63(6), 245-252. Doi:10.1177/2165079915576920. Epub, May 22
Carter, M. & Kelly, R. (2014). Generational differences in self-perceived health status, BMI, and healthy lifestyle behaviors between baby boomer and Generation X employees at a southeastern university setting. Workplace Health & Safety, 61(9), 409-419.
Recent Presentations
Carter, M. (2021). Social media use in nursing. The University of Alabama
Carter, M. & Strickland, H. (2020). Admission of a third cohort of nursing students: Opportunities and challenges. Alabama Nurses Association.
Research Areas
Health promotion and wellness in occupational settings
Predictors of nursing student's success