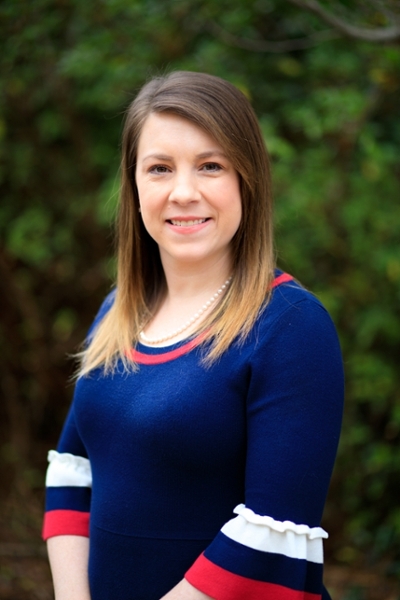 Assistant Professor
Moffett & Sanders School of Nursing
1561A CHS Building 1
After graduating from the University of Alabama with a BSN in nursing in 2010, Ashley York began work at UAB in the level 1 trauma and emergency department. She began her masters in nursing at UAB in 2012 with a focus on adult/gerontology and women's health nurse practitioner program while working. After time in the emergency department, and while still in school she worked in the new STAT nurse role at UAB. After graduation from her masters in 2014, she certified as adult/gerontology primary care nurse practitioner with AANP and a women's health nurse practitioner with NCC. She then started work as a hospitalist nurse practitioner at Jackson General Hospital in Jackson, TN. She also began to pursue her doctorate of nursing practice at Union University in 2014. While working on her doctorate, she was able to present at the Tennessee Nurses Association, nursing symposiums at Union University, and continuing education conferences. After a year and a half in the hospitalist role, she transitioned back into primary care in a rehab/long-term care setting. She also worked with hospice care. She began her teaching role as an adjunct at the University of Memphis in clinical education and then moved to a full-time role at Union University in 2016 in the nurse practitioner track. After graduation from her DNP, she relocated to Birmingham and began a career at Samford University in the accelerated program and at Birmingham Heart Clinic. She has been able to complete her publication on "Examining the Role of Ultrasound Viewing by Pregnant Females in the Decision Making Process whether or not to have an Elective Abortion" for the Journal of Christian Nursing, completed a Quality Matters Online teaching certificate and many other scholarship activities along with her teaching duties.
Degrees and Certifications
D.N.P., Nursing, Union University
M.S.N., Adult-gerontology Primary care  and women's health Nurse practitioner, University of Alabama at Birmingham
B.S.N., University of Alabama
Expertise
Palliative care/ end of life care
Adult primary care
Emergency medicine
Women health care-menopause
Awards and Honors
Integrating Palliative Oncology Care into Doctor of Nursing Practice (DNP)Education and Clinical Practice Train-the-Trainer Course, 2016

NAMS/Pfizer Medical Resident, Fellow, and DNP-in-Training Reporter Program recipient, 2016

Sigma Theta Tau International Honor Society, 2014

Delta Epsilon Iota Academic Honor Society, 2013
Publications
York, A., & Bagwell, L. (Accepted 2018). Examining the role of ultrasound viewing by pregnant females in the accepted decision making process whether or not to have an elective abortion. Journal of Christian Nursing.
Presentations
York, A. (2015, October). Cardiovascular Disease: Promoting Resolution of Disparities. Poster presentation at Tennessee Nurse Association Annual Conference

York, A. (2016, April). Mexico Healthcare System. Poster Presentation at Union University Symposium

York, A. (2016, October). Nursing Roles. Presentation to Master level Social Work Student Union University
York, A. (2016, November). Implications for Prescribing in the Elderly and End of Life Populations. Oral Presentation at Pharmacology CE update Union University
York, A. (2016, November). Ethics and Advanced Directives for Nurse Practitioners. Oral Presentation MSN and BSN-DNP NP students
York, A. (2017, March). Examining the Role of Ultrasound Viewing by Pregnant Females in the Decision Making Process whether or not to have an Elective Abortion. Oral Presentation Birth Choice Board
York, A. (2017, April). Examining the Role of Ultrasound Viewing by Pregnant Females in the Decision Making Process whether or not to have an Elective Abortion. Oral Podium Presentation Union University Symposium
York, A. (2018, August). An Innovative Approach to Improving Student- Center Learning and Interaction in Online/Blended Undergraduate Second-Degree Nursing Program Courses. Poster Presentation Samford University Mini-Conference on Teaching and Learning
York, A. (2018, September). Using Standardized Patient Simulation to Facilitate Concept-Based Learning in Hospice Care Settings. Podium Presentation Sigma Theta Tau Internal Region 8 Conference
Research
Women's health
Palliative care
Online and simulation education 
Involvement
North American Menopause Society, member
Nurse Practitioner Alliance of Alabama, member
American Association of Nurse Practitioners, member
Association of Women's Health, Obstetric and Neonatal Nurses, committee member 
American Nurse Association, member