Published on August 14, 2015 by Katie Stripling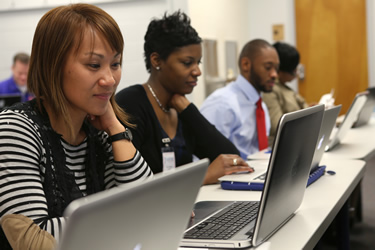 Samford University's Ida V. Moffett School of Nursing is preparing to offer the Doctor of Nursing Practice (D.N.P.) to students with associate's and baccalaureate degrees in nursing. This change is in response to the call from the American Association of Colleges of Nursing (AACN) to transition the level of preparation for advanced practice nursing roles from the master's degree (MSN) to the doctorate level. Advanced practice nurses seeking top clinical positions will be educated in Doctor of Nursing Practice programs.
"As our country's health care environment becomes more complex, advanced practice nurses are required to have the highest level of scientific knowledge and practice expertise possible," said nursing school Senior Associate Dean and Professor Jane Martin. "With this in mind, Ida V. Moffett School of Nursing is establishing innovative new programs that respond to the evolving demands of practice."
Proposed plans of study for the B.S.N. to D.N.P. and RN to D.N.P. are three to three and a half years in length and will begin as soon as summer 2016. The first program options available will be in the areas of Family Nurse Practitioner and Leadership.
Samford graduated its first class from its current post-MSN Doctor of Nursing Practice program in 2009. The D.N.P. is a clinically focused terminal degree in nursing practice and an alternative to research-focused doctoral programs. Doctor of Nursing Practice programs of study emphasize leadership, evidence, refinement of skills in areas of scholarly practice, practice improvement, innovation, evaluation of care delivery models and clinical expertise.