Published on June 2, 2015 by Katie Stripling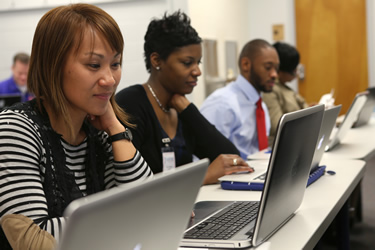 Online master's degree programs in Samford University's Ida V. Moffett School of Nursing have been ranked among the best in the nation for veterans, according to analysis and reports recently released by U.S. News and World Report. Ranked #48 in the nation, this is the first time Ida V. Moffett School of Nursing has been included in the ranking. They are the only Alabama school on the list.
"Veterans often have unique needs as they transition back to civilian life, and this ranking confirms that our programs address those needs and foster student success," said Jane Martin, associate dean of graduate programs in the Ida V. Moffett School of Nursing.
To qualify for the ranking, programs had to be among the top 75 percent of schools in the overall U.S. News 2015 Best Online Programs rankings. Programs were then accessed for various factors, including affordability, faculty credentials, student services and reputation.
According to Martin, Samford's nursing school offers a number or resources for veterans. In addition to an extensive support system for online learners, the school participates in the national Yellow Ribbon program, making course credits less costly for veterans. The university also employs individuals with experience navigating the new GI Bill in order to ensure that all necessary materials are organized and submitted successfully, which assists in a smooth transition into Samford's programs.
 "All of our online programs are designed to meet the needs of adult learners who are balancing multiple responsibilities," said Martin. "Whether a student is a veteran or working professional, our master's programs offer flexible schedules, limited on campus requirements, and a demonstrated commitment to meaningful student and faculty interaction. These things combine to create to create an environment where students excel," she added. 
Ida V. Moffett School of Nursing currently offers online master's concentrations in family nurse practitioner and nurse educator; a concentration in nurse anesthesia is available on campus. The school also has an RN to M.S.N. option in addition to programs at the baccalaureate and doctoral levels.  
Related story