Published on March 16, 2016 by Katie Stripling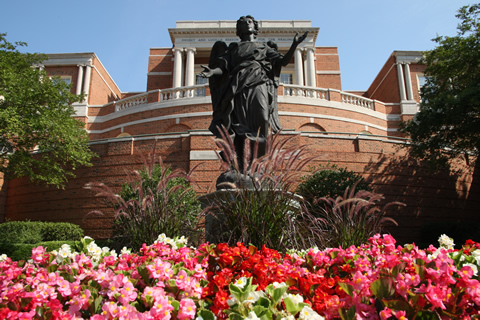 Samford University's Master of Science in Nursing program in the Ida V. Moffett School of Nursing was ranked among the best in the nation according to rankings released today by U.S. News & World Report.
Coming in at number 85 on the Best Graduate Nursing Programs list, Samford's Ida V. Moffett School of Nursing is ranked among the top 16 percent of all accredited master's programs in the country. Samford moved up five spots from number 90 last year.
"Our graduate programs continue to grow—both academically and numerically—to meet the needs of not only students and graduates, but also the nursing profession and health care community," said Gretchen McDaniel, associate dean for graduate nursing programs. "Our faculty and students are making significant contributions both inside and outside of the classroom and we are proud of this latest ranking."
Nursing school rankings are based on quality indicators related to student selectivity, faculty resources, faculty achievements, research activity and peer assessments of quality and specialties. The nurse anesthesia concentration was ranked #51 in the nation for the specialty and is the highest ranked program in the state.
Samford's McWhorter School of Pharmacy also earned high marks, moving up nine spots in this year's Best Pharmacy Schools ranking to number 53. Pharmacy school rankings are based on the results of peer assessment surveys sent to deans and administrators in accredited schools of pharmacy.
"Samford's recognition by U.S. News & World Report attests to the value of a Samford education and the success of our graduates and faculty," said Samford provost J. Michael Hardin. "We are proud of the work taking place within the schools of nursing and pharmacy and applaud the faculty, administration and students for earning such a strong reputation among their peers." 
 "The latest rankings are a strong testament to the strength of our programs in the College of Health Sciences," said Nena F. Sanders, Vice Provost of the College of Health Sciences. "To be recognized as a national leader in nursing and pharmacy education is a strong affirmation of the tremendous work of our faculty and administration in these schools."   
According to Sanders, Samford's health sciences programs are designed to meet the needs of not only students and graduates, but also the respective professions and the overall health care community. Both the nursing and pharmacy school have recently experienced growth in their graduate programs.
More than 430 students are enrolled in graduate nursing programs at Samford, with 340 of them pursuing a master's degree. The nursing school currently offers master's concentrations in family nurse practitioner, nurse educator and nurse anesthesia. The school also has an RN to M.S.N. option in addition to programs at the baccalaureate and doctoral levels. The school will introduce the RN to D.N.P. and B.S.N. to D.N.P. options in 2017.