Published on July 26, 2016 by Rachel Williams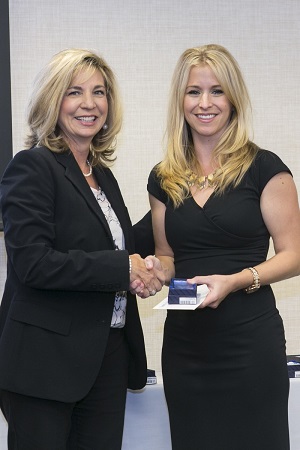 Each spring, Samford University's Ida V. Moffett School of Nursing presents a variety of awards to recognize the accomplishments of nursing students. This year, awards were presented at three ceremonies, one for the Baptist Health System Awards, one for undergraduate nursing students and one for graduate nursing students.  
On April 4, Baptist Health System presented its annual awards at a luncheon hosted at Princeton Baptist Medical Center.  Awards were presented by Princeton's Chief Nursing Officer and Ida V. Moffett School of Nursing alumna, Paula Davenport and Paige Connell, executive director of development at the Baptist Health Foundation.
The undergraduate nursing awards ceremony was held April 29 in Reid Chapel on Samford's campus. A highlight of the ceremony was the presentation of the inaugural Outstanding Faculty Award. The award, presented to Stephanie Wynn, was established by the Ida V. Moffett School of Nursing Advisory Board to recognize the extraordinary contributions of faculty in the school. In addition to the individual award recipients, graduating diplomats, honor medal and cum laude certificate recipients were also recognized.
Graduate nursing students were honored at a ceremony on May 12 in Samford's Howard Room. Sigma Theta Tau inductees were recognized in addition to the individual recipients. 
Baptist Health System Awards 
Academic Achievement Award Bachelor of Science in Nursing: Zavianni Elms
Academic Achievement Award Master of Science in Nursing: Christine Wood
Ida V. Moffett Caring Award: Kailin Kronlage
Elizabeth Calhoun Memorial Award: Brad Messner
Lucy Jarrell Estes Memorial Scholarship Award: Madison Thomas
Marion A. Marx Nursing Scholarship Award: Courtney Guhl
Ida V. Moffett Memorial Scholarship Awards: Elizabeth Randall and Tiffany Hethcox
Undergraduate Awards
Student Life Award: Anna Foyt
Christian Leadership Award: Bradley Pierce
Head Family Missions Scholarship: Sarah Lyles
Lucille Stewart Beeson Nursing Award-Bachelor of Science in Nursing: Shelby Corder
Outstanding Faculty Award: Dr. Stephanie Wynn
Graduate Awards
LeeAnna Grace Cunningham FNP Scholarship: Courtney McAlister
Alumni Association Award: Bethany Edgeworth
Lonnie W. Funderburg Nurse Anesthesia Scholarship: William Gafford
Dr. Theresa Culpepper Professionalism Award: Alicia Gladden
Agatha Hodgins Award: Maggie Kelly
Lucille Stewart Beeson Award-Master of Science in Nursing: Roy A. West
Lucille Stewart Beeson Award-Doctor of Nursing Practice: Jean D. Graham