Published on October 17, 2019 by Sara Roman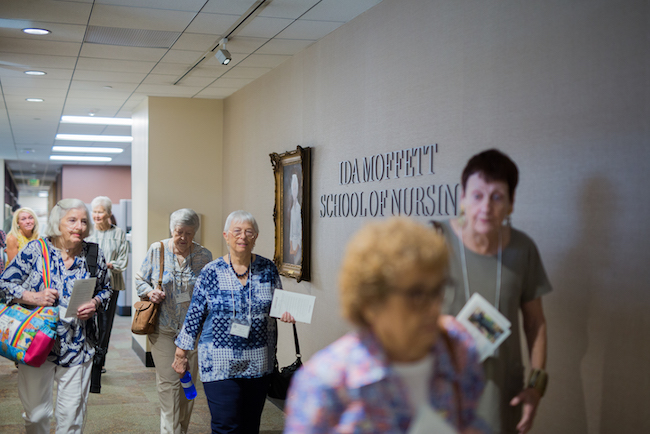 Birmingham Baptist Hospital School of Nursing class of 1959 and the Dec. class of 1969 recently gathered on Samford's campus for their 50th and 60th reunions.
Birmingham Baptist Hospital School of Nursing was founded by The Birmingham Baptist Association in 1922 to educate nurses and meet a desperate need for skilled practitioners. In 1968, the school was renamed Ida V. Moffett School of Nursing after Birmingham Baptist Hospital graduate Ida Vines Moffett and became the first program in Alabama to achieve accreditation by the National League for Nursing. Today, it is the only nursing education program founded by a health system to remain active in the state of Alabama.
"While Ida Moffett School of Nursing has grown and transformed significantly since its inception, our school's objective remains unchanged: we prepare students to provide exceptional, compassionate, patient-centered care," said Nena F. Sanders, nursing school dean and vice provost of Samford's College of Health Sciences. "These alumni are our foundation. They established the reputation that we seek to uphold today."
During their time on campus, the class members reconnected over shared memories and flipped through yearbooks and photo albums. A member of the class of 1969 brought their clinical uniform for display. 
The groups toured the College of Health Sciences and were in awe at the training resources that prospective nurses utilize today. Following the tour, the alumni gathered in the newly renovated rotunda for lunch, fellowship and a school of nursing update from Dean Sanders. The class of 1959 ended their reunion by being honored with the Living Legacy Award at the annual Courage to Care Gala, the school's highest alumni honor.
"We are incredibly proud of our rich history and the many advancements that these alumni have contributed to the field of nursing," said Sanders. "With every reunion, I find that each class is distinct but the vision and passion of Mrs. Moffett - academic excellence, compassion, caring and service – has stood the test of time and remains true in each of us." 
All Birmingham Baptist Hospital School of Nursing alumni are invited to join Ida Moffett School of Nursing for the annual Cap and Cape Society luncheon on Nov. 7.
To view the photo album from the 1959 reunion, click here and please click here for the 1969 reunion album.