Published on February 26, 2019 by Catie Bell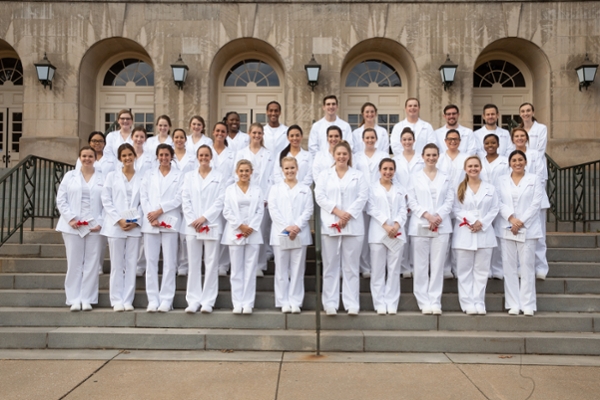 On Feb. 18, Samford University's Ida Moffett School of Nursing honored 34 Bachelor of Science in Nursing students at Samford's Brock Recital Hall. These undergraduate students began clinical courses this semester and represented the traditional B.S.N. program and five-semester second degree programs of the school.
The purpose of the White Coat Ceremony is to instill the commitment to compassionate care among health professionals. This commitment, according to nursing dean and vice provost of the College of Health Sciences, Nena F. Sanders, is "what makes a Moffett Nurse."
During the ceremony, each student was presented with a white coat and commemorative pin which serves as a reminder to the students' commitment to compassionate, patient-centered care. The group of honorees also recited a poem during the ceremony. Students were presented their coats by Ida Moffett School of Nursing faculty and staff members, Moniaree Jones, Tameka Pritchett, Rebecca Warr, Vicki Rochester, Angela Wilson, and Jan Paine. Associate professor, Vicki Rochester led them in the nurse's poem.
Sanders was the featured speaker for the ceremony, with class president Elizabeth Carroll offering the invocation and Kayla Vanderford, class chaplain providing the scripture reading. Professor Ellen Buckner closed the ceremony.
White Coat Ceremonies have long been an important rite of passage at medical schools. In 2014, Samford was selected as one of only 100 nursing schools in 43 states selected by the Arnold P. Gold Foundation (APGF) and the American Association of Colleges of Nursing (AACN) to pilot White Coat Ceremonies for nursing students. This program marked the first coordinated effort to offer White Coat events at schools of nursing. The White Coat Ceremony has become a tradition in the Ida Moffett School of Nursing with ceremonies occurring each fall and spring.
###
Samford University's Ida Moffett School of Nursing has a rich history as a leader in nursing education, practice and service. The school is founded on the principles and philosophies of legendary nurse Ida Vines Moffett. Graduates from the school have the wisdom, skills and courage to go out into the world and make people's lives better. The school offers a variety of degree options at the baccalaureate and doctoral levels and graduates consistently pass their certification exams at rates far surpassing national averages. Visit www.samford.edu/nursing to learn more.
The Arnold P. Gold Foundation (APGF): The Arnold P. Gold Foundation's overarching goal is to create the Gold Standard in healthcare – compassionate, collaborative and scientifically excellent care – to support clinicians throughout their careers, so the humanistic passion that motivates them at the beginning of their education is sustained throughout their practice. We strive to ensure that care and respect always govern the relationship between practitioner and patient.