Published on December 1, 2020 by Sara Roman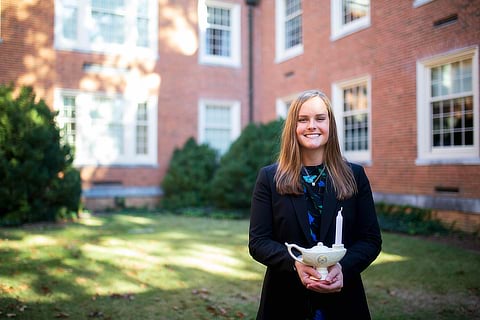 For as long as she can remember, Ashlyn Barnes felt a desire to help others through health care and her Samford experience prepared her with more than academics. As a Moffett & Sanders School of Nursing student, Barnes took full advantage of every opportunity to enhance her knowledge and skill.
Barnes discovered Samford after being recruited to play softball. When she visited campus for the first time, she says she instantly knew there was something different. "The Christian principles that Samford was founded upon were evident in the everyday operations of the university and in the everyday lives of Samford students," said Barnes. "I chose Samford, because I knew it was the place where I would grow tremendously personally, intellectually and spiritually."
She certainly sought every opportunity to grow. In addition to being a student athlete, Barnes took on several leadership positions including nursing diplomat, research assistant and class president. She will graduate at the top of her class this December.
For most students, a full academic course load and athletics would have been enough, but Barnes also worked with Ellen Buckner, professor of nursing, to complete a research project focused on the connection between asthma and obesity. This past summer, Barnes and Buckner collected research during the Virtual Young Teen Asthma and Wellness Camp and Barnes plans to continue working on the research after graduation.
She attributes her work ethic to God's blessings and the support of her family, friends, and faculty. "Growing up, my parents taught me to work hard no matter what and to always find a way to achieve your goals," she said. "I believe both of these principles have been crucial to the success that I have had during my time at Samford."
Barnes' postgraduation plans are unique from many other nursing graduates. After earning professional experience as a nurse, Barnes plans to attend medical school. She believes the combination will provide her with a tremendous opportunity to serve others. "In nursing school, I have learned to provide holistic care to patients," said Barnes. "I want to take the holistic approach to patient care that I have learned with nursing, along with the other knowledge and experiences I have and will gain through nursing, and apply that to the care I will provide as a doctor."
Barnes has accepted a position at UAB Hospital on the Cardiopulmonary Critical Care Intensive Care Unit. She is looking forward to serving her patients and their families. She notes that she will often be the center point in her patient's care and she is looking forward to taking what she has learned at Samford's Moffett & Sanders School of Nursing and applying it to her practice.
 "Samford has taught me to always pursue excellence both intellectually and spiritually. Moffett & Sanders School of Nursing has taught me to have the courage to care and to serve others wholeheartedly," said Barnes. "I am so thankful for my time at Samford, but I am excited for the next chapter of my life as I know that Samford and Moffett & Sanders School of Nursing has prepared me well for all that is to come."