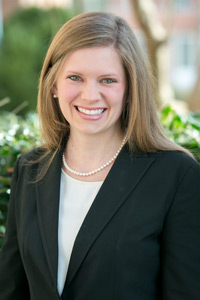 Instructor of Business
Brock School of Business
Department of Entrepreneurship Management and Marketing
333 Cooney Hall
Kathryn Boyd, MBA, PHR, is an instructor of business in Brock School of Business where she teaches in the Department of Entrepreneurship, Management and Marketing.
She earned her Master of Business Administration from Samford University and Bachelor of Science in Business Administration in Human Resources from Auburn University. Prior to this role, she served as the director of professional success in the Office Academic Programs office where she worked toward developing and building partnerships, internships, and full-time opportunities locally and regionally for students; coordinated Brock School of Business' academic internship program for pre-professional business experience; and worked with students over their Brock School of Business tenure relative to academic exploration, self-discovery, career information, interview preparedness, and job searching. In addition to the academic internship and development role, she developed and oversaw the professional development course and its associated events throughout each academic term. She came to Samford with industry experience in recruitment and human resources management.
She is a member of the Birmingham Society of Human Resource Management and a member of The Church of Brook Hills. She is married to Chad, who works in medical sales. They live in Hoover, Alabama, with their daughter, Olivia.
Degrees and Certifications
B.S. Human Resource Management, Auburn University, 2010
B.A. Spanish, Auburn University, 2010
Certified Professional in Human Resources (PHR), 2015
M.B.A., Samford University, 2019