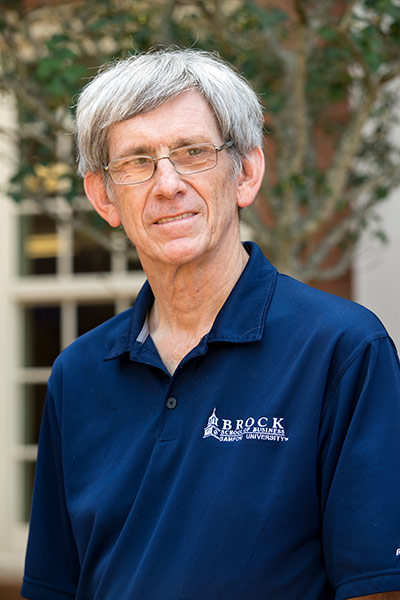 Assistant Professor of Business
Brock School of Business
Department of Entrepreneurship Management and Marketing
Office: 375 Cooney Hall
Larry Harper is an assistant professor in Brock School of Business and teaches courses in managerial values and international business.
He joined Samford University in June 1991 when Brock School of Business founded the Global Utilities Institute and appointed him as its Director. Under his direction the Institute undertook numerous training and management development projects worldwide. He trained managers and provided consulting services to companies in Asia, Europe, Africa and North America. He managed the Brock School of Business graduate programs from 2005 until 2012.
Before joining Samford, Harper was a senior manager in Ernst & Young's Washington Utility Group. He also served as a management board member and chief financial officer at Eskom in South Africa which is among the world's largest electric utilities. There, Harper was a key member of the senior management team that successfully repositioned a struggling company as a business oriented and customer focused utility. They achieved this through a change that included a strong financial focus, improved marketing, new information systems, an aggressive corporate communication program (internal and external) and a stakeholder management strategy. Harper has successful hands-on experience in each of these areas.
Upon graduation in 1980 from the M.B.A. program at the University of Alabama at Birmingham, Harper earned Dean's Student honors and was inducted into Beta Gamma Sigma, Omicron Delta Epsilon and Phi Kappa Phi. He also has a graduate degree in finance from the University of South Africa and a Bachelor of Commerce in accounting from the University of Witwatersrand, Johannesburg, South Africa.
Expertise
Managerial Values/Business Ethics; International Business; Utilities; Regulation;Energy; Finance; Graduate Business Education; International Business